What South Korea has to do with the IWH ...
Gerhard Heimpold about his experiences at IWH
Mr Heimpold, if you were to describe your job to your neighbour, what would you tell her?
I would tell her that my research focuses on the question how regions that undergo a fundamental structural change can make economic progress and how politics can support this progress. Moreover, I would tell her that I am especially interested in the economic developments in East Germany since the German reunification.

Can you give us a small insight in your current research?
I currently investigate how industrial centers in the former GDP perform today and which lessons we can draw from their development. For instance, I examine the metallurgy location Eisenhüttenstadt or the chemistry location Schkopau which have been modernized in the course of the development programme for East Germany.

From your point of view, which changes affected the institute most?
IWH has become much more international both regarding its employees and its presence in the academic world. Another important achievement was the implementation of the Doctoral Programme in Economics.
Is there any moment in IWH's history to which you think back fondly?
Yes! In Spring 2014 a delegation of the Republic of South Korea came to visit us in Halle. Representatives of a renowned institute for economic research as well as the Ministry for Strategy and Finance were looking for an academic partner institution in Germany. They were interested in a joint study about the experiences of the German Reunification. Since then we meet regularly. I am happy to see that the expertise of our institute regarding economic convergence processes is of international interest, in this case the development of East Germany.

What is your wish for the next 25 years of upcoming IWH history?
I wish that IWH will continue on its chosen path of excellent research and that its policy advice will be noticed both nationally and internationally. Moreover, I hope we will keep the cooperative atmosphere in the institute.

Dr. Gerhard Heimpold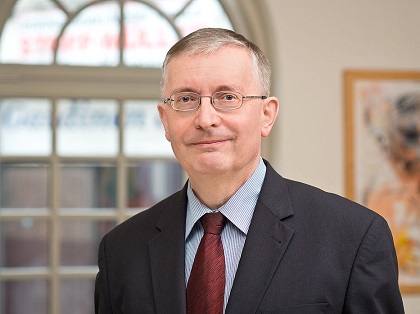 Dr. Gerhard Heimpold works for the institute since its foundation. His research interests concern especially regional development and cluster policies, case studies on regions in East Germany. He is Deputy Head of the Department of Structural Change and Productivity since 2014.