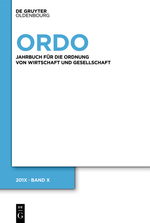 Die Bedeutung der Besitzverflechtung von Kapitalgesellschaften für die Finanzkrise
in: ORDO, 2010
Abstract
Im vorliegenden Papier wird die Bedeutung der Besitzverflechtungen zwischen Aktiengesellschaften (bzw. Kapitalgesellschaften im Allgemeinen) für die gegenwärtige Finanzmarktkrise herausgearbeitet. Durch den wechselseitigen Besitz von Firmen untereinander ist eine Situation entstanden, in denen bestellte Manager sich lediglich kontrollieren. Durch entstehende Abhängigkeiten und die innerhalb der verhältnismäßig kleinen Gruppe von Topmanagern mögliche implizite Koordination konnten Vorstände über die Entlohnungs- und damit auch über die Anreizsysteme, denen sie ausgesetzt sind, wesentlich mitentscheiden. Dies hat, wie gezeigt wird, erheblich zur Entstehung von Anreizsystemen beigetragen, die sich im Kern an kurzfristigen Erfolgen orientieren. Da insbesondere in der Finanzintermediation kurz- und langfristige Gewinnoptimierung durch die starke Korrelation von Risiko und Gewinnmöglichkeiten einem starken Trade- off unterliegen, haben diese Anreizsysteme wiederum eine erhebliche Rolle in der verfehlten Risikopolitik der Banken gespielt, die ein wesentliche Ursache der Krise war.
read publication
--- Finanzielle Instabilität und Krise in den Post-Transformations-Ländern
in: Wirtschaftspolitische Blätter, No. 3, 2009
Abstract
Contagion was only the trigger of the unexpectedly severe crisis in European post-transition countries. Rather, increasing financial fragility of the countries since 2001, after their banking and financial sector was overtaken by international financial institutions, was the origin. Euphoric expectations induced an asset price inflation followed by an increasing debt burden of the private sector, which was fueled by net capital inflows. This study argues that simple concepts of demand reduction do not offer any way out of the crisis. A second transition is necessary, which establishes a new growth model being robust against speculative capital flows and offering high growth rates.
read publication