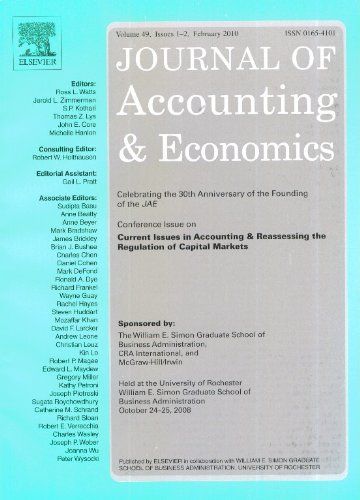 Compensation Regulation in Banking: Executive Director Behavior and Bank Performance after the EU Bonus Cap
in: Journal of Accounting and Economics, forthcoming
Abstract
The regulation that caps executives' variable compensation, as part of the Capital Requirements Directive IV of 2013, likely affected executive turnover, compensation design, and risk-taking in EU banking. The current study identifies significantly higher average turnover rates but also finds that they are driven by CEOs at poorly performing banks. Banks indemnified their executives by off-setting the bonus cap with higher fixed compensation. Although our evidence is only suggestive, we do not find any reduction in risk-taking at the bank level, one purported aim of the regulation.
read publication
---
Completing the European Banking Union: Capital Cost Consequences for Credit Providers and Corporate Borrowers
in: European Economic Review, September 2022
Abstract
The bank recovery and resolution directive (BRRD) regulates the bail-in hierarchy to resolve distressed banks in the European Union (EU). Using the staggered BRRD implementation across 15 member states, we identify banks' capital cost responses and subsequent pass-through to borrowers towards surprise elements due to national transposition details. Average bank capital costs increase heterogeneously across countries with strongest funding cost hikes observed for banks located in GIIPS and non-EMU countries. Only banks in core E(M)U countries that exhibit higher funding costs increase credit spreads for corporate borrowers and contract credit supply. Tighter credit conditions are only passed on to more levered and less profitable firms. On balance, the national implementation of BRRD appears to have strengthened financial system resilience without a pervasive hike in borrowing costs.
read publication
---
Political Cycles in Bank Lending to the Government
in: Review of Financial Studies, No. 6, 2021
Abstract
We study how political party turnover after German state elections affects banks' lending to the regional government. We find that between 1992 and 2018, party turnover at the state level leads to a sharp and substantial increase in lending by local savings banks to their home-state government. This effect is accompanied by an equivalent reduction in private lending. A statistical association between political party turnover and government lending is absent for comparable cooperative banks that exhibit a similar regional organization and business model. Our results suggest that political frictions may interfere with government-owned banks' local development objectives.
read publication