Aufschwung im Osten so stark wie in Deutschland insgesamt – Implikationen der Gemeinschaftsdiagnose Herbst 2017 für Ostdeutschland
"In den vergangenen drei Jahren expandierte die ostdeutsche Wirtschaft trotz un­günstigerer demographischer Entwicklung schneller als die Gesamtdeutschlands. Dies dürfte im Jahr 2017 nicht mehr der Fall sein, wie Indikatoren für das Produzie­rende Gewerbe, die Auftragseingänge und die Beschäftigtenentwicklung im ersten Halbjahr 2017 nahelegen", sagt Oliver Holtemöller, Leiter der Abteilung Makro­ökonomie und Vizepräsident am IWH. So ist der Boom am Bau im Westen wohl noch ausgeprägter als in Ostdeutschland. Gemäß den aktuellen Volkswirtschaftlichen Gesamtrechnungen der Länder hat die Produktion in Ostdeutschland im ersten Halb­jahr 2017 mit 1,3% sogar deutlich langsamer gegenüber dem ersten Halbjahr 2016 zugelegt als in West-deutschland (2,1%). Ausschlaggebend war dafür vor allem eine schwächere Expansion in den ostdeutschen Wachstumszentren Berlin mit Branden­burg und Sachsen. Allerdings dürfte dies auf eine schwache und mittlerweile über­wundene schwächere Produktionsentwicklung im zweiten Halbjahr 2016 zurück­gehen. "Im laufenden Jahr ist die Konjunktur in Ost und West wohl etwa wieder gleich kräftig. Sie hat sogar noch etwas an Schwung gewonnen, weil zur schon seit längerem star­ken Binnennachfrage im ersten Halbjahr 2017 auch eine deutliche Expansion der Exporte trat", so Holtemöller.
Dementsprechend setzt sich auch in Ostdeutschland der Beschäftigungsaufbau fort. Im Jahr 2017 wird die Erwerbstätigkeit mit 1,5% wohl genau so kräftig zunehmen wie in Westdeutschland. Die registrierte Arbeitslosigkeit nimmt weiter ab. Im Jahr 2017 dürften 643 000 Personen arbeitslos gemeldet sein. Die – auf die Erwerbs­personen bezogene – Arbeitslosenquote wird wohl bei 7,5% liegen.
Hintergrund: Das IWH hat im Sommer 2017 seinen Jahresbericht zur wirtschaftlichen Entwicklung in Ostdeutschland vorgelegt. Darin wurde ein Anstieg des Bruttoinlands­proodukts in Ostdeutschland (mit Berlin) um 1,8% für das Jahr 2017 prognostiziert.* Wegen der jüngst guten Konjunkturentwicklung in Gesamtdeutschland wird diese Prognose leicht nach oben revidiert. Am 28.09.2017 stellen die Wirtschaftsforschungs­institute unter Beteiligung des IWH ihre Konjunkturprognose für Deutschland insge­samt vor, vgl. Projektgruppe Gemeinschaftsdiagnose: Aufschwung weiter kräftig – An­spannungen nehmen zu. Herbst 2017. Kiel 2017. In dieser Pressemitteilung wird beschrieben, welche Implikationen sich aus der aktuellen Prognose für Deutschland ins­gesamt für Ostdeutschland ergeben.

Whom to contact
For Researchers
For Journalists
IWH list of experts
The IWH list of experts provides an overview of IWH research topics and the researchers and scientists in these areas. The relevant experts for the topics listed there can be reached for questions as usual through the IWH Press Office.
Related Publications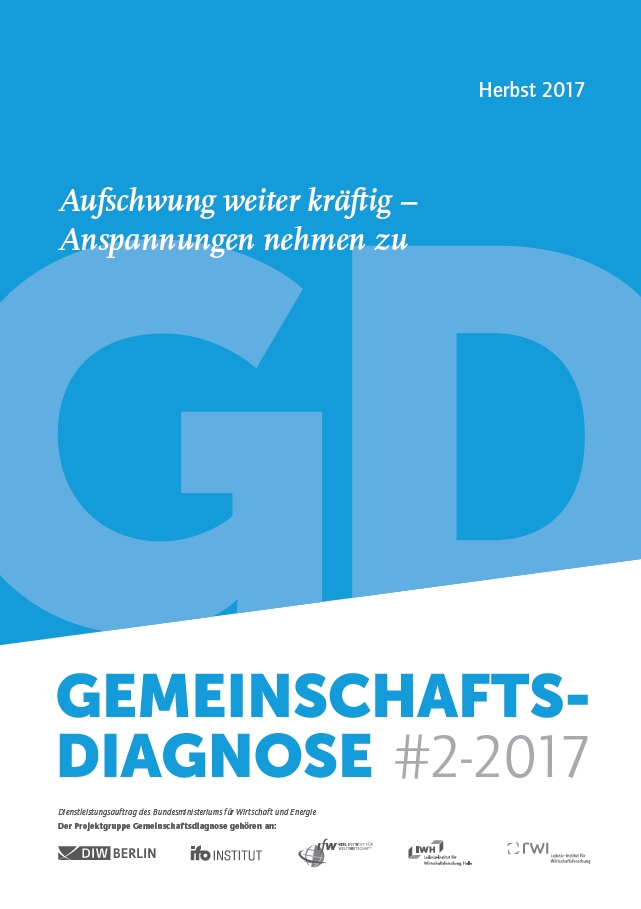 Upturn Remains Robust — Amid Mounting Tensions: Joint Economic Forecast Autumn 2017
in: Externe Monographien, 2017
Abstract
The German economic upturn has gained both in terms of strength and breadth. In addition to consumer spending, external trade and investments are now also contributing to economic expansion. These are the conclusions drawn by the economic research institutes in their autumn report for the German federal government. Whereas the very high economic momentum in the first half of the current year will slow slightly, expansion of economic output this year and next will exceed production capacity growth. As a result, overall capacity utilization will increase, with economic output exceeding potential output. Gross Domestic Product is likely to grow by 1.9 percent this year and by 2 percent in 2018 (calendar-adjusted: 2.2 and 2.1 percent, respectively).
read publication
---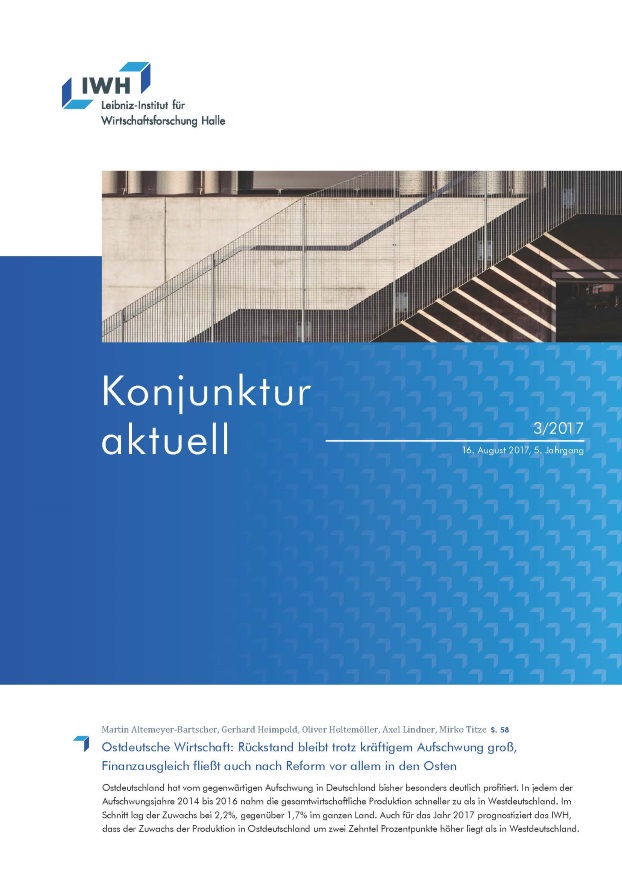 Ostdeutsche Wirtschaft: Rückstand bleibt trotz kräftigem Aufschwung groß, Finanzausgleich fließt auch nach Reform vor allem in den Osten
in: Konjunktur aktuell, 3, 2017
Abstract
Ostdeutschland hat vom gegenwärtigen Aufschwung in Deutschland bisher besonders deutlich profitiert. In jedem der Aufschwungsjahre 2014 bis 2016 nahm die gesamtwirtschaftliche Produktion schneller zu als in Westdeutschland; auch für das Jahr 2017 prognostiziert das IWH, dass der Zuwachs der Produktion in Ostdeutschland mit 1,8% etwas höher liegt als in Westdeutschland. Freilich ist auch nach mehr als 25 Jahren Deutscher Einheit in jeder der ostdeutschen Regionen die Produktivität immer noch niedriger als in derjenigen westdeutschen Region mit der geringsten Produktivität. Der größte Teil der Zuweisungen vom Bund wird auch ab dem Jahr 2020, wenn der reformierte Länderfinanzausgleich gilt, in den Osten der Republik fließen. Die Reform des Länderfinanzausgleichs hat dabei nicht zu einer Verbesserung der wirtschaftspolitischen Anreize für die finanzschwachen Bundesländer geführt, was auch dazu beitragen könnte, dass die ökonomische Konvergenz nur schleppend verläuft.
read publication