Ostdeutsche Produktion expandiert wieder langsamer als in Deutschland insgesamt – Implikationen der Gemeinschaftsdiagnose Frühjahr 2018 und amtlicher Daten für die ost-deutsche Wirtschaft im Jahr 2017
Schon im Jahr 2017 hat das Bruttoinlandsprodukt in Ostdeutschland mit 1,9% um 0,3 Prozentpunkte langsamer zugelegt als in Gesamtdeutschland. Ein Grund dafür ist, dass der Anteil der Exportgüter an der gesamtwirtschaftlichen Produktion in Ostdeutschland kleiner ist als im Westen, und dass die ostdeutsche Wirtschaft deshalb von der derzeit kräftigen Auslandskonjunktur nicht in dem Ausmaß wie die westdeutsche profitiert. Die Gemeinschaftsdiagnose prognostiziert für Deutschland, dass die Exporte im Jahr 2019 einen geringeren Beitrag zum gesamtwirtschaftlichen Zuwachs leisten werden als in diesem Jahr. Dementsprechend dürfte auch der Abstand der Zuwachsraten zwischen West und Ost 2019 geringer ausfallen.
Ein wesentlicher Grund dafür, dass die ostdeutsche Wirtschaft im Trend geringer wächst als die in Deutschland insgesamt, ist die ungünstigere demographische Entwicklung. Mit der arbeitsfähigen Bevölkerung nimmt auch die in Ostdeutschland geleistete Arbeit langsamer zu als im Westen. Vor allem ist die Entwicklung in den Dienstleistungsbereichen – gemessen an den sozialversicherungspflichtig Beschäftigten zum Jahresbeginn – weniger dynamisch als in Westdeutschland. Auch die Umsätze im Verarbeitenden Gewerbe lassen darauf schließen, dass die Produktion in Ostdeutschland etwas langsamer zunimmt als in Westdeutschland.
Das Bruttoinlandsprodukt je Einwohner/in ist in den vergangenen Jahren dagegen in Ost und West mit etwa der gleichen Geschwindigkeit gewachsen. Dabei kommt der ostdeutschen Wirtschaft zugute, dass hier die (freilich auch viel höhere) Arbeitslosenquote trotz geringerem Produktionswachstum etwas rascher sinkt als im Wes-ten. Die – auf die Erwerbspersonen bezogene – Arbeitslosenquote dürfte von 7,6% im Jahr 2017 auf 7,0% im Jahr 2018 sinken (Deutschland insgesamt 2017: 5,7%, 2018: 5,2%).
Whom to contact
For Researchers
For Journalists
IWH list of experts
The IWH list of experts provides an overview of IWH research topics and the researchers and scientists in these areas. The relevant experts for the topics listed there can be reached for questions as usual through the IWH Press Office.
Related Publications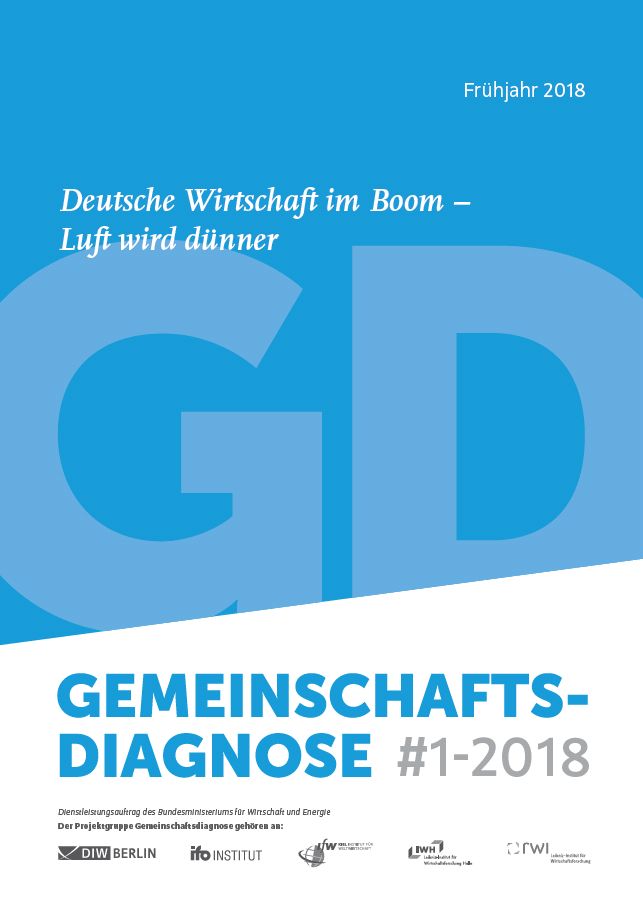 Germany's Economic Experts Raise Forecast Slightly: Joint Economic Forecast Spring 2018
in: Externe Monographien, 2018
Abstract
The German economy continues to boom, but the air is getting thinner. Unused economic capacities are gradually shrinking, leading to a slight loss of economic impetus. The pace of economic expansion nevertheless remains brisk: the upturn in the world economy will continue to stimulate exports; and the domestic economy is also expected to remain buoyant thanks to the exceptionally favourable situation in the labour market. The fiscal measures outlined by Germany's new government in its coalition agreement can be expected to stimulate demand. Annual average economic output can be expected to rise by 2.2 percent this year and by 2.0 percent in 2019. This represents a 0.2 percentage point increase in the institutes' assessment of growth in gross domestic product versus their autumn 2017 forecast. Employment will continue to see clear growth, but will be weakened by labour market shortages. At the same time, gross wages can be expected to increase markedly. The inflation rate will also rise gradually from 1.7 percent this year to 1.9 percent in 2019.
read publication