Organisational Behaviour and Corporate Success
This research group analyzes how non-monetary workplace characteristics (such as voice at the workplace or the perceived meaningfulness of the task) and managerial decision-making (e.g. as regards layoffs) influences the work motivation of employees. From a methodological persepective, the group focuses on conducting (field) experiments. First, such experiments allow us to obtain clean performance measures. Second, and more important, holding all things equal for every participating individual except for the treatment of interest, any change in workers' performance can be put down to the experimenter's intervention.
Research Cluster
Institutions and Social Norms
Refereed Publications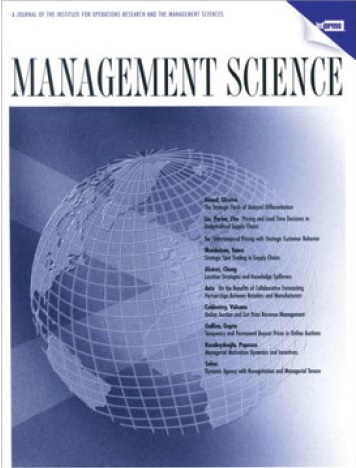 When the Meaning of Work Has Disappeared: Experimental Evidence on Employees' Performance and Emotions
in: Management Science, No. 6, 2017
Abstract
This experiment tests for a causal relationship between the meaning of work and employees' motivation to perform well. The study builds on an existing employer–employee relationship, adding realism to the ongoing research of task meaning. Owing to an unexpected project cancelation, we are able to study how varying the information provided about the meaning of previously conducted work — without the use of deception, but still maintaining a high level of control — affects subsequent performance. We observe a strong decline in exerted effort when we inform workers about the meaninglessness of a job already done. Our data also suggests that providing a supplemental alternative meaning perfectly compensates for this negative performance effect. Individual characteristics such as reciprocal inclinations and trust prompt different reactions. The data also show that the meaning of work affects workers' emotions, but we cannot establish a clear relationship between emotional responses and performance.
read publication
---
Trade Union Membership and Paid Vacation in Germany
in: IZA Journal of Labor Economics, No. 1, 2015
Abstract
In Germany, dependent employees take almost 30 days of paid vacation annually. We enquire whether an individual's trade union membership affects the duration of vacation. Using data from the German Socio-Economic Panel (SOEP) for the period 1985 to 2010 and employing pooled OLS-estimators, we find that being a union member goes along with almost one additional day of vacation per year. Estimations exploiting the panel structure of our data suggest that a smaller part of this vacation differential can be due to the union membership status, while self-selection effects play a more important role.
read publication
Working Papers
Alone at Home: The Impact of Social Distancing on Norm-consistent Behavior
in: IWH Discussion Papers, No. 8, 2021
Abstract
Around the globe, the COVID-19 pandemic has turned daily live upside down since social distancing is probably the most effective means of containing the virus until herd immunity is reached. Social norms have been shown to be an important determinant of social distancing behaviors. By conducting two experiments and using the priming method to manipulate social isolation recollections, we study whether social distancing has in turn affected norms of prosociality and norm compliance. The normative expectations of what behaviors others would approve or disapprove in our experimental setting did not change. Looking at actual behavior, however, we find that persistent social distancing indeed caused a decline in prosociality – even after the relaxation of social distancing rules and in times of optimism. At the same time, our results contain some good news since subjects seem still to care for norms and become more prosocial once again after we draw their attention to the empirical norm of how others have previously behaved in a similar situation.
read publication
---
Crowdsourced Innovation: How Community Managers Affect Crowd Activities
in: IWH Discussion Papers, No. 13, 2018
Abstract
In this study, we investigate whether and to what extent community managers in online collaborative communities can stimulate crowd activities through their engagement. Using a novel data set of 22 large online idea crowdsourcing campaigns, we find that active engagement of community managers positively affects crowd activities in an inverted U-shaped manner. Moreover, we evidence that intellectual stimulation by managers increases community participation, while individual consideration of users has no impact on user activities. Finally, the data reveal that community manager activities that require more effort, such as media file uploads instead of simple written comments, have a larger effect on crowd participation.
read publication