IWH-Industrieumfrage im ersten Quartal 2017: Ostdeutsche Industrie ausgesprochen optimistisch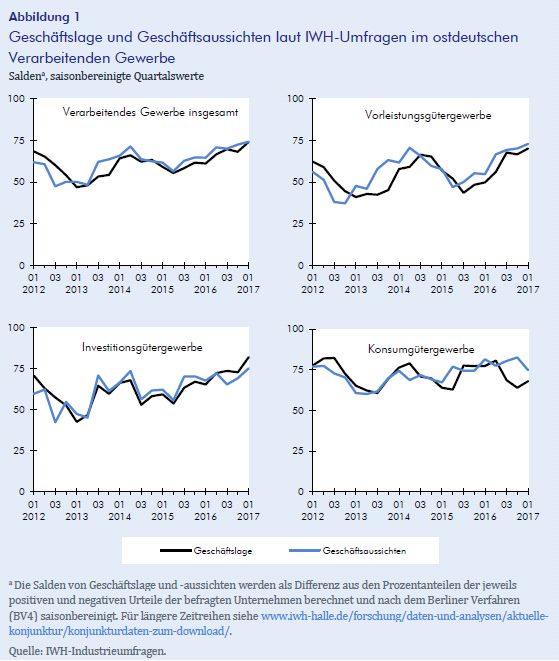 Die gegenwärtige Produktionslage hat sich nach einer kurzen Stagnation im vierten Quartal wieder verbessert, und die Auftragslage ist weiterhin aufwärtsgerichtet. Dies dürfte auch Einfluss auf die deutlich günstigeren Bewertungen der Ertragserwartungen haben. Lediglich die Produktionserwartungen folgten zuletzt nicht mehr dem allgemeinen Aufwärtstrend (vgl. Abbildung 2 und Tabelle).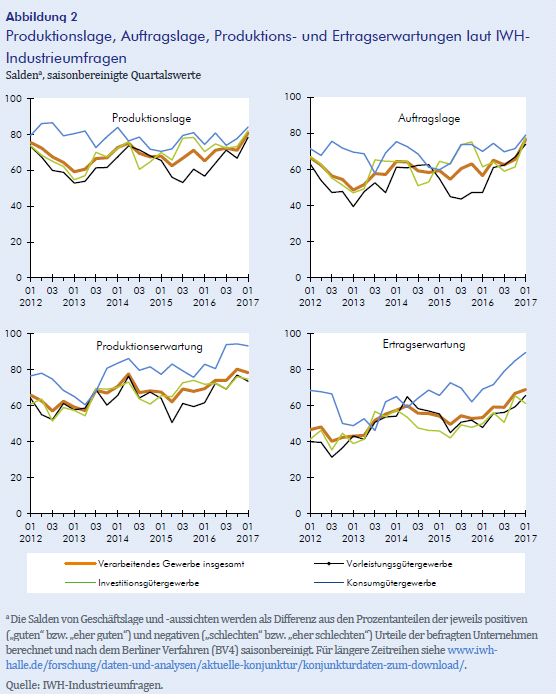 In den fachlichen Hauptgruppen (Vorleistungsgütergewerbe, Investitionsgütergewerbe und Konsumgütergewerbe) gab es durchweg eine freundlichere Bewertung der Geschäftslage. Im Vorleis-tungsgüter- und dem Investitionsgütergewerbe setzt sich damit der Trend aus den vorangegangenen Quartalen fort. Die Konsum-güterproduzenten, die im zweiten Halbjahr 2016 ihre Geschäftslage deutlich pessimistischer sahen als noch zu Beginn des Jahres, waren zuletzt wieder etwas besser gestimmt.
Die Geschäftsaussichten der Produzenten von Vorleistungs- und Investitionsgütern sind weiterhin aufwärtsgerichtet und befinden sich fast auf Allzeithoch. Lediglich im Konsumgütergewerbe wurden sie kräftig nach unten korrigiert. Dies war jedoch absehbar, da sich in den vergangenen zwei Quartalen eine deutliche Diskrepanz zwischen gestiegenen Geschäftserwartungen und einer verschlechterten Geschäftslage aufgebaut hatte.
Die Produktionslage wurde in den Hauptgruppen ebenfalls durchweg günstiger eingeschätzt. Insgesamt scheint es hier momentan kaum noch Unterschiede zwischen den verschiedenen Sparten zu geben.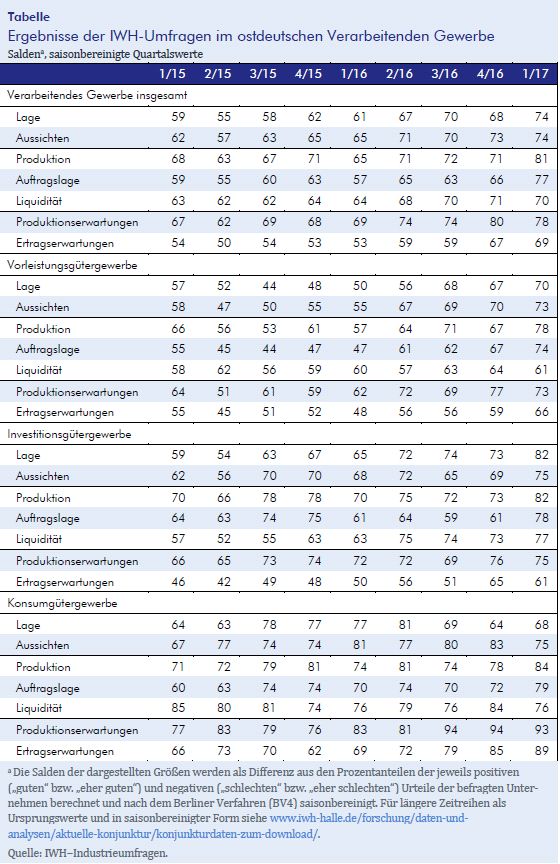 Hingegen sinken die Produktionserwartungen in allen Sparten, am deutlichsten bei den Vorleistungsgüterbetrieben; bei den Investitionsgüterherstellern deutet sich der Rückgang bislang nur an. Die Konsumgüterproduzenten, die in den vergangenen Quartalen ausgesprochen hohe Produktionserwartungen geäußert hatten, korrigierten ihre Annahmen sehr leicht. Das dürfte wohl auf die weiterhin sehr günstig bewertete Auftragslage in dieser Sparte zurückzuführen sein. Aber auch die Investitionsgüter- und Vorleistungsgüterproduzenten hatten zuletzt von einer ähnlich günstigen Auftragslage berichtet.
Bei den Investitionsgüterherstellern sanken die Ertragserwartungen leicht. Hingegen wachsen die Ertragserwartungen der Konsumgüterproduzenten gerade in den Himmel und werden wohl demnächst korrigiert werden (vgl. Abbildung 2).
Alles in allem geht die ostdeutsche Industrie von einem robusten Aufschwung in den nächsten beiden Quartalen aus.
Whom to contact
For Researchers
For Journalists
IWH list of experts
The IWH list of experts provides an overview of IWH research topics and the researchers and scientists in these areas. The relevant experts for the topics listed there can be reached for questions as usual through the IWH Press Office.