Produktivität im Ost-West-Vergleich: Ostdeutschland holt langsam weiter auf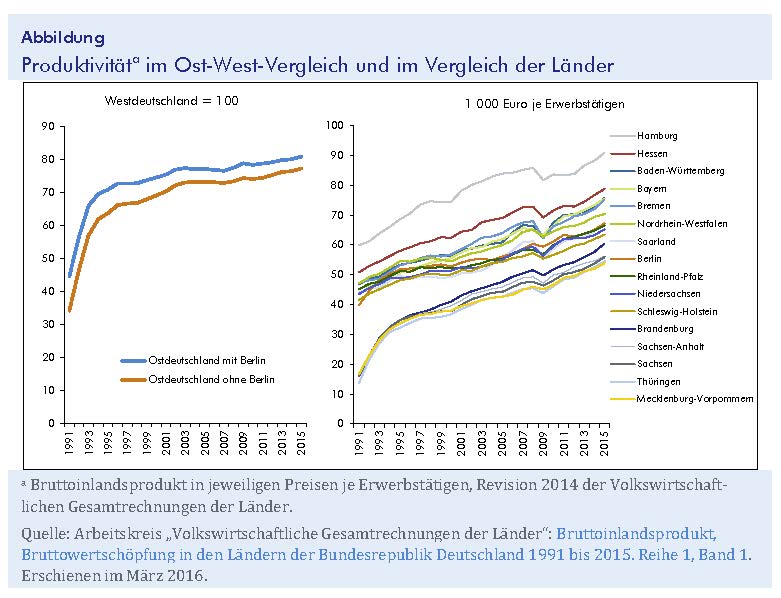 Im Jahr 2015 hat sich die Produktivität, gemessen in jeweiligen Preisen, im Vergleich zum Vorjahr um 0,8 Prozentpunkte an das westdeutsche Niveau angenähert und erreicht, je nachdem, ob Ostdeutschland mit oder ohne Berlin betrachtet wird, rund 81% beziehungsweise 77% des westdeutschen Niveaus (linke Graphik). Aber selbst das Flächenland im Osten mit der höchsten Produktivität – Brandenburg – hat bislang nicht das Niveau des produktivitätsschwächsten westdeutschen Flächenlandes – Schleswig-Holstein – erreicht (rechte Graphik). Auffällig ist ferner, dass die Spreizung der ostdeutschen Flächenländer bei der Produktivität auch 25 Jahre nach der deutschen Vereinigung deutlich geringer ausfällt als jene zwischen den westdeutschen Ländern. So liegt die Differenz zwischen dem höchsten und dem niedrigsten Produktivitätswert bei den westdeutschen Flächenländern mehr als doppelt so hoch wie bei den ostdeutschen.
Whom to contact
For Researchers
For Journalists
IWH list of experts
The IWH list of experts provides an overview of IWH research topics and the researchers and scientists in these areas. The relevant experts for the topics listed there can be reached for questions as usual through the IWH Press Office.