Executive and Supervisory Board
As a membership corporation the IWH is statutably divided into different functional units of organisation (Management and Boards) through which it is leaded and coordinated, advised and supervised. The Boards of the IWH consist of the Executive Board, the Supervisory Board, the Members' Assembly as well as the Scientific Advisory Board.
Below you can find more details on the Executive Board and the Supervisory Board of the IWH.
Executive Board
The Executive Board consists of the President, the Vice President and the Head of Administration. The members of the board are individually authorized to represent the IWH (board within the meaning of § 26 BGB [German Civil Code]).
Professor Reint E. Gropp, PhD is the President of the IWH.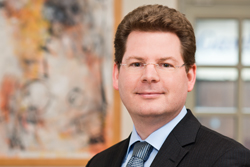 Professor Dr Oliver Holtemöller is Vice President and Head of the Department of Macroeconomics.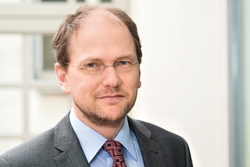 Dr Tankred Schuhmann is the Head of Administration.
Supervisory Board
Professor Dr Dr Sabine Freifrau von Schorlemer
Chairwoman of the Supervisory Board, Holder of the Chair of International Law, European Union Law and International Relations at Technische Universität Dresden
Professor Dr Armin Willingmann
Minister of Economy, Science and Digitalisation of the State of Saxony-Anhalt; Deputy Chairman of the Supervisory Board
Dr Stefan Profit
Federal Ministry for Economic Affairs and Energy
Professor Dr Christoph Wunder
Faculty of Law, Economics and Business, Chair of Econometrics, Martin Luther University Halle-Wittenberg
Professor Dr Karl-Heinz Paqué
Faculty of Economics and Management, Chair for International Economics, Otto-von-Guericke-University Magdeburg
Dr Matthias Brachert
Chairman of the staff council
Stephan Freiherr von Stenglin
President of the Deutsche Bundesbank's Regional Office in Bremen, Lower Saxony and Saxony-Anhalt
Helmut Herres
Federal Ministry of Finance
Kristina Kostial, PhD
International Monetary Fund
Professor Dr Jutta Schnitzer-Ungefug
Secretary-General of the National Academy of Sciences Leopoldina
Dr Michael Wolgast
Moody's Corporation, Senior Vice President – Head of Representative Office, Berlin