ENTRANCES
Energy Transitions from Coal and Carbon: Effects on Societies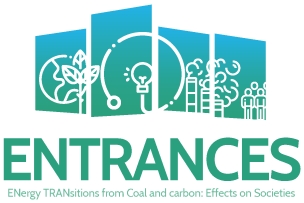 ENTRANCES aims at examining the effects of the coal phase-out in Europe. How does the phase-out transform society – and what can politics do about it?
The EU-funded, interdisciplinary research project analyses the impact of the conversion from fossil fuels on the people living in regions affected by the phase-out. It highlights the question of how this transition influences the landscape, local politics, and gender equality. Oliver Holtemöller leads the IWH team, focusing on how selected European coal regions are affected economically by the phase-out, analysing the effects of e.g. unemployment and emigration.
IWH press release on the occasion of the project's announcement


Funding institution: European Commission (Horizon 2020)
Funding period: 2020-2023
Coordinator: University of A Coruña (UDC), Spain
Project partners: University of A Coruña, Agenzia nazionale per le nuove tecnologie, l'energia e lo sviluppo economico, Knowledge and Innovation – Rome, Leibniz-Institut für ökologische Raumentwicklung, Centre for Social Innovation – Vienna, Norwegian University of Science and Technology, European Association of Development Agencies, Instytut Gospodarki Surowcami Mineralnymi i Energią PAN, Faculty of Psychology and Education – University 'Alexandru Ioan Cuza, University' of Iasi, Sociedade Portuguesa de Inovação, Women Engage for a Common Future, Center of Social and Psychological Sciences, Cardiff University
Research Group: Econometric Tools for Macroeconomic Forecasting and Simulation
Department: Macroeconomics

This project has received funding from the European Union's Horizon 2020 research and innovation programme under grant agreement No 883947.