Organisational Behaviour and Corporate Success
This research group analyzes how non-monetary workplace characteristics (such as voice at the workplace or the perceived meaningfulness of the task) and managerial decision-making (e.g. as regards layoffs) influences the work motivation of employees. From a methodological persepective, the group focuses on conducting (field) experiments. First, such experiments allow us to obtain clean performance measures. Second, and more important, holding all things equal for every participating individual except for the treatment of interest, any change in workers' performance can be put down to the experimenter's intervention.
Research Cluster
Institutions and Social Norms
Refereed Publications Financial Literacy and Self-employment
in: The Journal of Consumer Affairs, forthcoming
Abstract
In this paper, we study the relationship between financial literacy and self‐employment. We use established financial literacy questions to measure literacy levels. The analysis shows a highly significant and positive correlation between the index and self‐employment. We address the direction of causality by applying instrumental variable techniques based on information about maternal education. We also exploit information on financial support and family background to account for concerns about the exclusion restriction. The results provide support for a positive effect of financial literacy on the probability of being self‐employed. As financial literacy is acquirable, the findings suggest that entrepreneurial activities might be increased by enhancing financial literacy.
read publication
---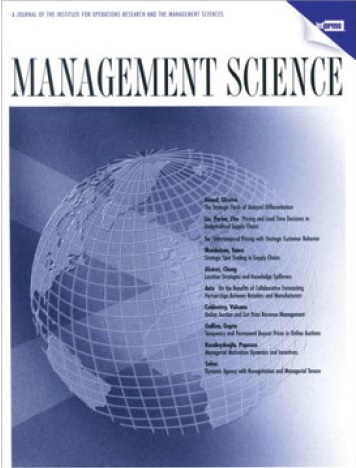 When the Meaning of Work Has Disappeared: Experimental Evidence on Employees' Performance and Emotions
in: Management Science, No. 6, 2017
Abstract
This experiment tests for a causal relationship between the meaning of work and employees' motivation to perform well. The study builds on an existing employer–employee relationship, adding realism to the ongoing research of task meaning. Owing to an unexpected project cancelation, we are able to study how varying the information provided about the meaning of previously conducted work — without the use of deception, but still maintaining a high level of control — affects subsequent performance. We observe a strong decline in exerted effort when we inform workers about the meaninglessness of a job already done. Our data also suggests that providing a supplemental alternative meaning perfectly compensates for this negative performance effect. Individual characteristics such as reciprocal inclinations and trust prompt different reactions. The data also show that the meaning of work affects workers' emotions, but we cannot establish a clear relationship between emotional responses and performance.
read publication
--- Trade Union Membership and Paid Vacation in Germany
in: IZA Journal of Labor Economics, No. 1, 2015
Abstract
In Germany, dependent employees take almost 30 days of paid vacation annually. We enquire whether an individual's trade union membership affects the duration of vacation. Using data from the German Socio-Economic Panel (SOEP) for the period 1985 to 2010 and employing pooled OLS-estimators, we find that being a union member goes along with almost one additional day of vacation per year. Estimations exploiting the panel structure of our data suggest that a smaller part of this vacation differential can be due to the union membership status, while self-selection effects play a more important role.
read publication
Working Papers
Firm Wage Premia, Industrial Relations, and Rent Sharing in Germany
in: IWH Discussion Papers, No. 2, 2018
Abstract
This paper investigates the influence of industrial relations on firm wage premia in Germany. OLS regressions for the firm effects from a two-way fixed effects decomposition of workers' wages by Card, Heining, and Kline (2013) document that average premia are larger in firms bound by collective agreements and in firms with a works council, holding constant firm performance. RIF regressions show that premia are less dispersed among covered firms but more dispersed among firms with a works council. Hence, deunionisation is the only among the suspects investigated that contributes to explaining the marked rise in the premia dispersion over time.
read publication
---
"The Good News about Bad News": Feedback about Past Organisational Failure and its Impact on Worker Productivity
in: IWH Discussion Papers, No. 1, 2018
Abstract
Failure in organisations is a very common phenomenon. Little is known about whether past failure affects workers' subsequent performance. We conduct a field experiment in which we follow up a failed mail campaign to attract new volunteers with a phone campaign pursuing the same goal. We recruit temporary workers to carry out the phone campaign and randomly assign them to either receive or not receive information about the previous failure and measure their performance. We find that informed workers perform better – in terms of both numbers dialed (about 14% improvement) and completed interviews (about 20% improvement) – regardless of whether they had previously worked on the failed mail campaign. Evidence from a second experiment with student volunteers asked to support a campaign to reduce food waste suggests that the mechanism behind our finding relates to contextual inference: Informing workers/volunteers that they are pursuing a goal that is hard to attain seems to add meaning to the work involved, leading them to exert more effort.
read publication
---
Measuring Indirect Effects of Unfair Employer Behavior on Worker Productivity – A Field Experiment
in: IWH Discussion Papers, No. 26, 2017
Abstract
We present a field experiment in which we set up a call-center to study how the productivity of workers is affected if managers treat their co-workers in an unfair way. This question cannot be studied in long-lived organizations since workers may change their career expectations (and hence effort) when managers behave unfairly towards co-workers. In order to rule out such confounds and to measure productivity changes of unaffected workers in a clean way, we create an environment where employees work for two shifts. In one treatment, we lay off parts of the workforce before the second shift. Compared to two different control treatments, we find that, in the layoff treatment, the productivity of the remaining, unaffected workers drops by 12 percent. We show that this result is not driven by peer effects or altered beliefs about the job or the managers' competence, but rather related to the workers' perception of unfair behavior of employers towards co-workers. The latter interpretation is confirmed in a survey among professional HR managers. We also show that the effect of unfair behavior on the productivity of unaffected workers is close to the upper bound of the direct effects of wage cuts on the productivity of affected workers. This suggests that the price of an employer's unfair behavior goes well beyond the potential tit-for-tat of directly affected workers.
read publication