Laws, Regulations and Factor Markets
The idea in forming the new department "Laws, Regulations and Factor Markets" is the observation that the regulation of financial and labour markets are traditionally analysed separately. The new department aims to overcome this divide from the perspective of real sector development. It will achieve this objective by conducting joint research into aspects of the framework conditions for financial and labour markets that are relevant to growth and structure. The unique attribute of the new department is the analysis of interdependency between national and supranational regulation within the field of financial and labour markets on the one hand, and real sector development on the other.
Working Papers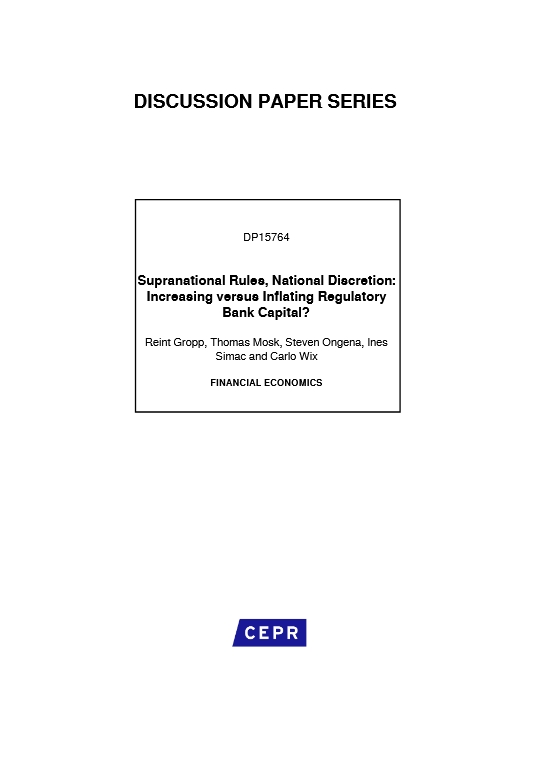 Supranational Rules, National Discretion: Increasing versus Inflating Regulatory Bank Capital?
in: Centre for Economic Policy Research Discussion Papers, No. 15764, 2021
Abstract
We study how higher capital requirements introduced at the supranational and implemented at the national level affect the regulatory capital of banks across countries. Using the 2011 EBA capital exercise as a quasi-natural experiment, we find that affected banks inflate their levels of regulatory capital without a commensurate increase in their book equity and without a reduction in bank risk. This observed regulatory capital inflation is more pronounced in countries where credit supply is expected to tighten. Our results suggest that national authorities forbear their domestic banks to meet supranational requirements, with a focus on short-term economic considerations.
read publication
---
Banking Deregulation and Household Consumption of Durables
in: IWH Discussion Papers, No. 18, 2020
Abstract
We exploit the spatial and temporal variation of the staggered introduction of interstate banking deregulation across the U.S. to study the relationship between credit constraints and consumption of durables. Using the American Housing Survey from 1981 to 1993, we link the timing of these reforms with evidence of a credit expansion and household responses on many margins. We find robust evidence that households are more likely to purchase new appliances and invest in home renovations and modifications after the deregulation. These durable goods allowed households to consume less electricity and spend less time in domestic activities after the reforms.
read publication