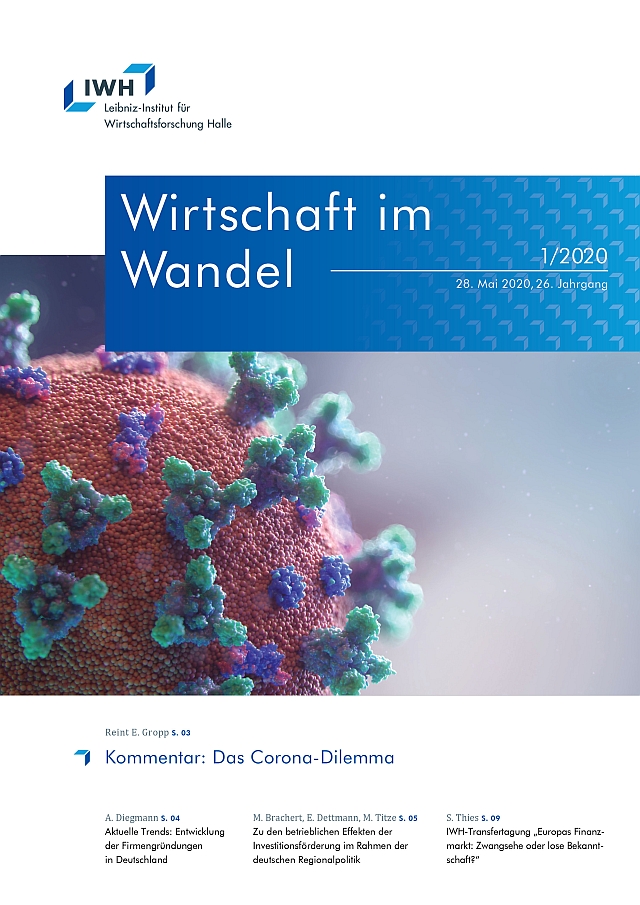 Zu den betrieblichen Effekten der Investitionsförderung im Rahmen der deutschen Regionalpolitik
Die Wirtschaft in den Industrieländern unterliegt einem ständigen Anpassungsdruck. Wichtige aktuelle Treiber des Strukturwandels sind vor allem die Globalisierung, der technologische Fortschritt (insbesondere durch Digitalisierung und Automatisierung), die Demographie (durch Alterung und Schrumpfung der Bevölkerung) und der Klimawandel. Von diesem Anpassungsdruck sind jedoch die Regionen in Deutschland sehr unterschiedlich betroffen. Regionalpolitik verfolgt das Ziel, Regionen bei der Bewältigung des Strukturwandels zu unterstützen. Ein besonderer Fokus liegt dabei auf Regionen, die ohnehin durch Strukturschwächen gekennzeichnet sind. Die aktuelle Regionalförderung in Deutschland basiert im Wesentlichen auf der Förderung von Investitionen von Betrieben und Kommunen. Die Evaluierung dieser Programme muss integraler Bestandteil der Regionalpolitik sein – schließlich stellt sich immer die Frage nach einer alternativen Verwendung knapper öffentlicher Mittel. Eine Pilotstudie für Sachsen-Anhalt zeigt, dass die im Rahmen der Regionalpolitik gewährten Investitionszuschüsse einen positiven Effekt auf Beschäftigung und Investitionen der geförderten Betriebe haben; bei den Investitionen allerdings nur für die Dauer des Projekts. Effekte der Förderung auf Umsatz und Produktivität von Betrieben in Sachsen-Anhalt waren nicht nachweisbar.
02. June 2020
Seit Gründung der Bundesrepublik Deutschland bildet der Ausgleich regionaler Disparitäten einen festen Bestandteil ihrer Wirtschaftspolitik. Die normative Begründung für Regionalpolitik ist im Artikel 72 Absatz 2 Grundgesetz mit der "Herstellung gleichwertiger Lebensverhältnisse im Bundesgebiet" verankert. Um dieses Ziel zu erreichen, setzt die Politik eine ganze Reihe von Instrumenten ein. Hierzu gehören etwa die Umverteilungsmechanismen in den öffentlichen Finanzsystemen (Länderfinanzausgleich, kommunaler Finanzausgleich), die sozialen Sicherungssysteme, die Transferzahlungen an die privaten Haushalte sowie die Förderung der Wirtschaft in strukturschwachen Regionen.1
Zum letztgenannten Bereich zählt das Förderprogramm "Gemeinschaftsaufgabe Verbesserung der regio­nalen Wirtschaftsstruktur" (GRW). Im Rahmen der GRW können sich Unternehmen (und Kommunen) in strukturschwachen Regionen um Zuschüsse für Investitionsprojekte bewerben. Grundanliegen der GRW-Förderung ist die Schaffung von zusätzlichen Einkommensquellen, um das Gesamteinkommen in der Region, in der der begünstigte Betrieb seinen Standort hat, unmittelbar und auf Dauer nicht unwesentlich zu erhöhen.
Für die Politik ist es von erheblicher Bedeutung, Kenntnis über die Wirkungen derartiger Programme zu erlangen. Die GRW nimmt hier eine Vorreiterrolle ein, da ihre Genehmigung durch die EU-Behörden nur möglich war, weil die Bundesregierung zugesichert hat, dieses Förderprogramm auf Basis eines Kontrollgruppendesigns zu evaluieren.2 Die Anwendung derartiger Analysemethoden entspricht dem internationalen State of the Art der Wirkungsforschung.3
Zielgruppe des GRW-Programms sind vor allem Betriebe in strukturschwachen Regionen. Es liegt daher nahe, zunächst die Wirkungen dieses Programms auf betriebliche Zielgrößen zu untersuchen, auch wenn das Hauptanliegen des Programms die Schaffung zusätzlichen Einkommens in strukturschwachen Regionen ist. Sollten sich auf der kleinstmöglichen Analyseeinheit keine Wirkungen zeigen, so sind Effekte auf der regionalen Ebene unwahrscheinlich. Auf der anderen Seite darf man bei Vorliegen von positiven Effekten auf der Betriebsebene allerdings nicht schlussfolgern, dass auch der Effekt für die gesamte Region positiv wird. Möglich sind etwa Verlagerungseffekte von den nicht geförderten zu den geförderten Betrieben, wodurch der Effekt für die Region null wäre.
Der folgende Abschnitt erläutert die wesentlichen Charakteristika des Programms. Darauf folgt die Vorstellung einer Pilotstudie für das Land Sachsen-Anhalt. Abschließend werden die Ergebnisse der Pilotstudie diskutiert und in den wirtschaftspolitischen Kontext eingeordnet.