Financial market reaction to poll data suggests strong effects of a Brexit on exchange rates and the banking system both in the UK and in the EU
Using high frequency financial data and poll data measuring the share of supporters of the UK leaving the EU (from whatukthinks.org), the IWH obtains first estimates of the likely short term consequences of a Brexit on financial markets. Figure 1 shows the time series pattern of the poll results regarding the question about whether a UK exit from the EU is supported (see Figure 1).
Formal empirical analysis (see IWH Online 5/2016) supports the patterns depicted in Figure 2. The figure shows that an increase of the share of supporters of leaving the EU is associated with declining returns of bank indices (panel a) and a depreciating UK Pound with respect to the Euro (panel b) and other currencies (not shown). We also find record levels of volatility in European stock markets, not seen even during the Greek debt crisis (panel c).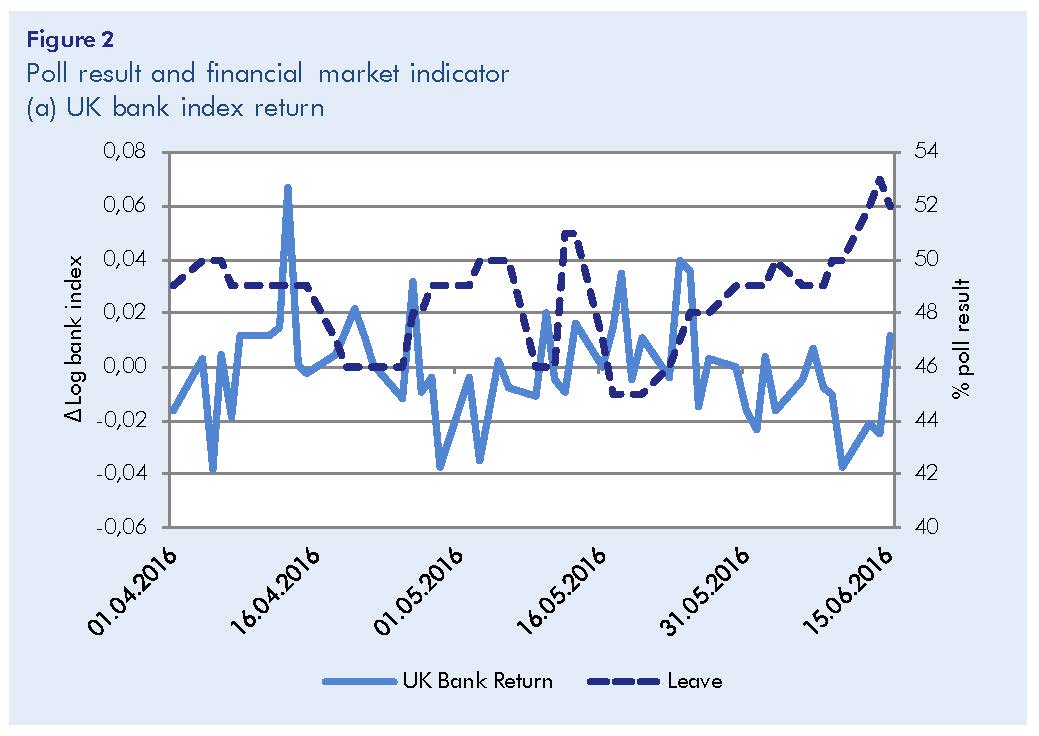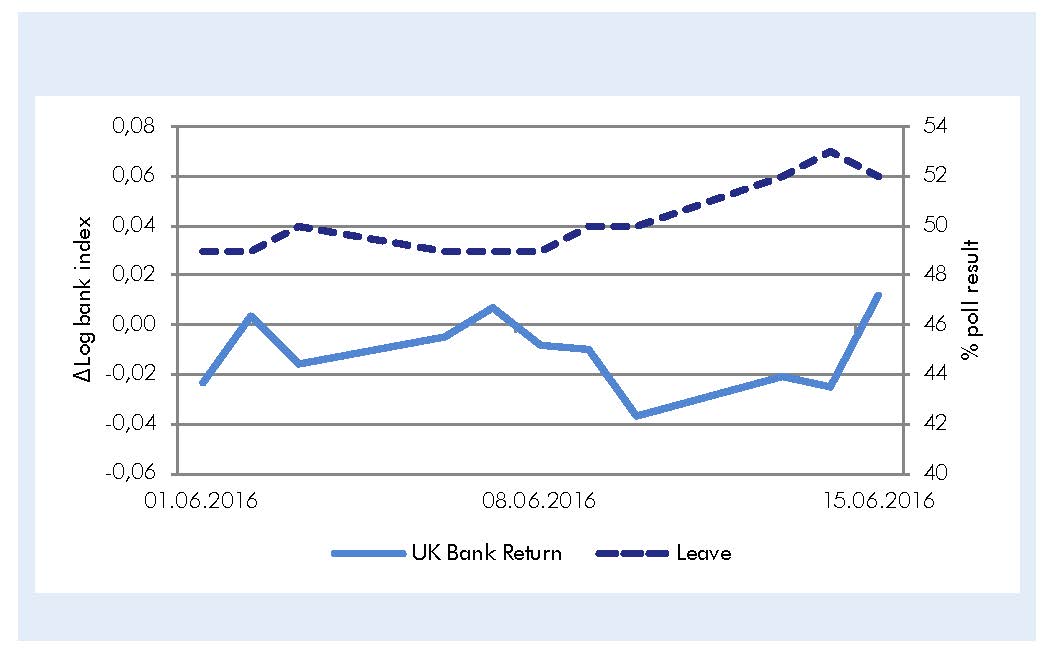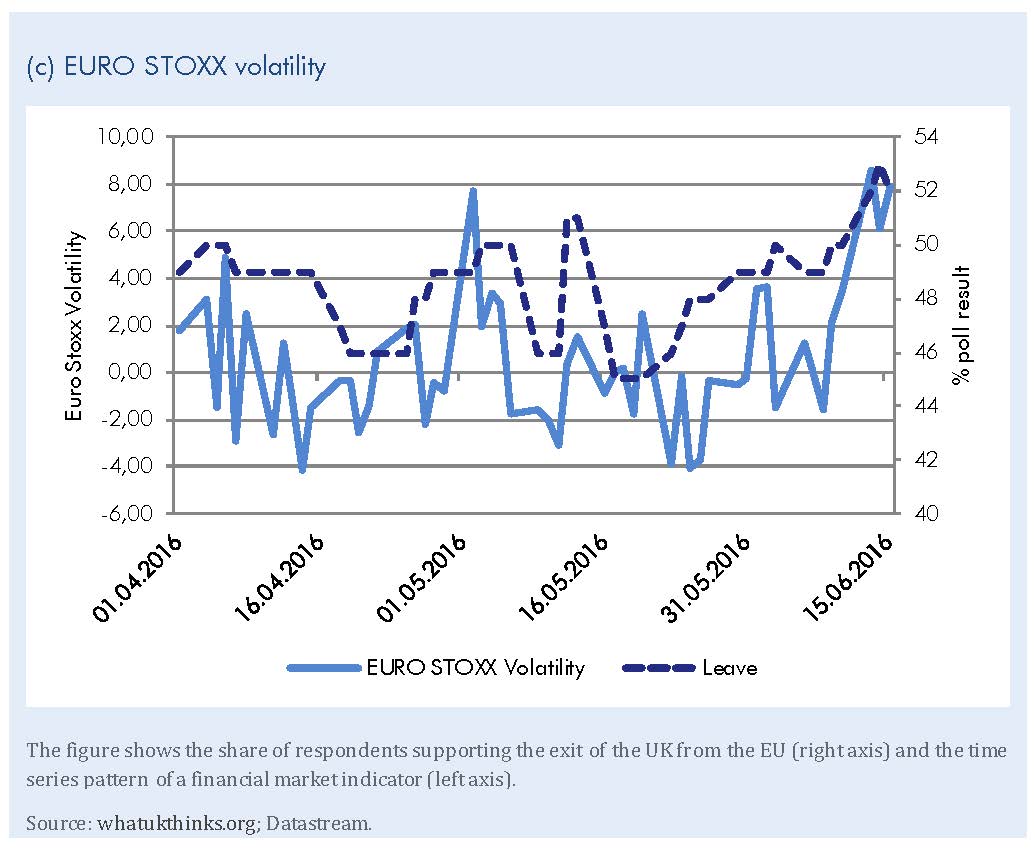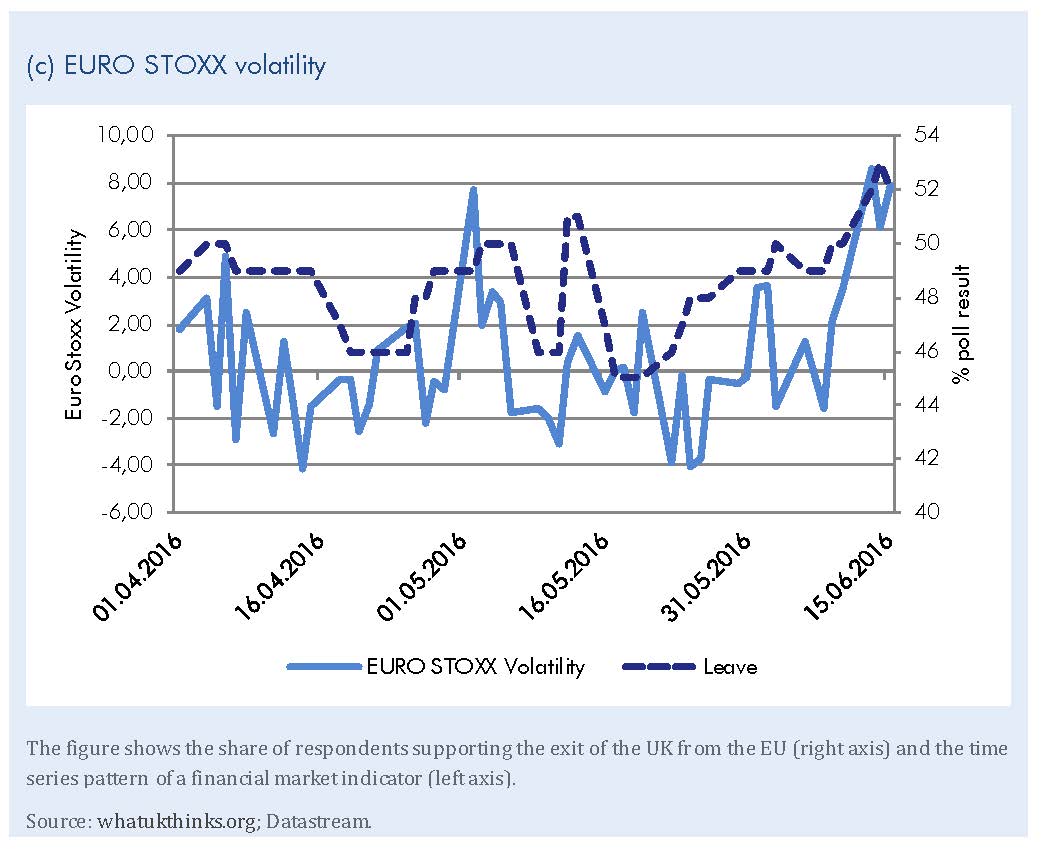 The note also presents a number of other interesting results. One, there are significant market reactions on days when poll results in favor of the UK leaving the EU are above 50%; compared to poll results below the 50% threshold. Second, we show a flight to safety effect into UK government bonds. Markets do not expect the UK budget to be negatively affected by a Brexit. No flight to safety effects into other countries are found, including no effect on German government bonds. Third, the absence of an effect on the euro dollar exchange rate is surprising, as it suggests that market participants do not see a potential Brexit as a threat to the common currency. They seem to carefully differentiate between the UK exiting from the EU, rather than the euro, which the UK was never part of.
Whom to contact
For Researchers
For Journalists
IWH list of experts
The IWH list of experts provides an overview of IWH research topics and the researchers and scientists in these areas. The relevant experts for the topics listed there can be reached for questions as usual through the IWH Press Office.
Related Publications
Brexit (Probability) and Effects on Financial Market Stability
in: IWH Online, 5, 2016
Abstract
On 23 June 2016, there will be a referendum in the United Kingdom (UK) on the stay of the country in the European Union (EU). Based on recent poll data, the share of supporters and opponents of an exit varies around 50%. Opponents of the UK breaking up with Brussels ("Brexit") refer to high costs in terms of stagnating economic growth if the UK leaves the EU. The risk of reduced trade, declining foreign direct investment, and a lower degree of financial market integration is high following an exit of the "single market".
read publication