East Germany Rearguard
Only investments in education will lead to a further catch-up
Dossier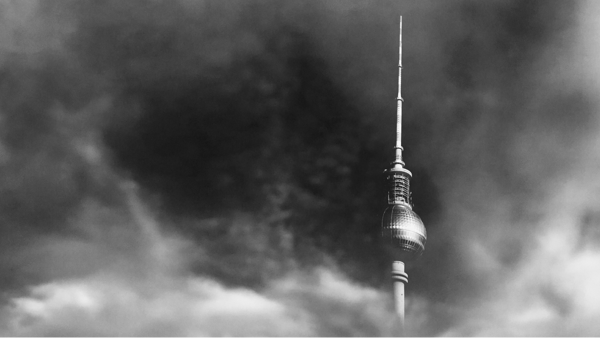 Politicians' and economists' explanations for this development differ: While politicians are more likely to argue with the start-up difficulties, the lack of large-scale research firms and the break-up of the East German markets, scientists have brought lack of investment in education and research, the lack of internationality and insufficient innovations – and thus future-oriented arguments – to the forefront.
Our experts
In the first half of the 1990's, policy focused on the build-up of physical infrastructure. East Germany's economic performance increased substantially. "This process benefited from transfers from West Germany, which is why productivity advanced faster compared to other transition countries such as Poland, Hungary or the Czech Republic," says Oliver Holtemöller, IWH Vice President. Today, the East-German physical infrastructure is on the same level as West Germany. However, the fact that the catch-up process has remained slow thus far, also in terms of the employment structure in East Germany, has other causes.
Demography
While the population in West Germany had been stagnating since the turn of the millennium and recently even increased, East Germany suffers a decline in population of about 15% since 2000 since many people left East Germany after the German unification. "On the one hand, the decline can be explained by natural demographic development. On the other hand, people still have better economic perspectives elsewhere and therefore move," Oliver Holtemöller points out. Indeed, in 2015, the population increased in East Germany as well. But this is mainly due to the extraordinary influx of refugees who are distributed to the federal states of Germany according to a fixed ratio.
Insufficient investment in education and research
To improve the economic situation, it is essential to invest in education and research – from early childhood development to academic training. Education does not only enable people to participate in the labour market with equal chances but also fights poverty and unemployment, which is far more sustainable, for example, than the widespread minimum wage. Education is the key to innovation and productivity. The same is true for investments in research and development. In 2012, for example, Saxony-Anhalt spent just 1.5% in relation to GDP, which was the lowest number among all 16 German federal states.
Lack of internationality
The German economy is strongly oriented toward international markets. Here Saxony-Anhalt has a long way to go as an East German state – foreign sales as a percentage of the total sales the manufacturing sectors is about 30%, well below the national average of 45%.
"The partial manifestation of xenophobia aggravates the situation," says Holtemöller. On the one hand, this is a negative location factor: For example, in Saxony-Anhalt, the number of right-wing criminal offenses is twelve times higher than in Hesse. This makes it extremely difficult to attract qualified specialists from foreign countries to settle in East Germany.
"A one-sided orientation toward physical capital and technology will not help to bring East Germany forward. The key future drivers are human capital, creativity and open-mindedness," summarises the Vice President.
Info Graphics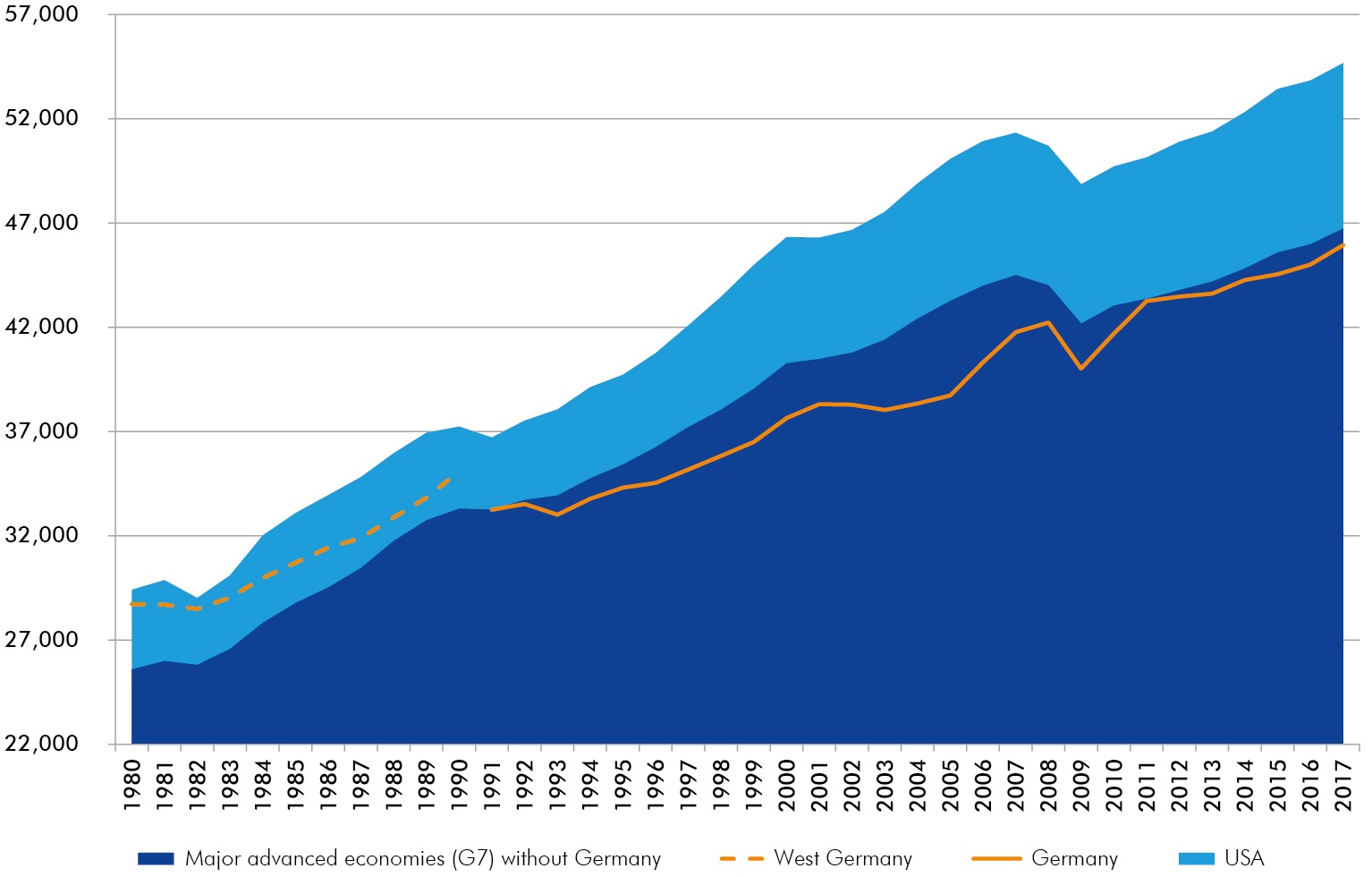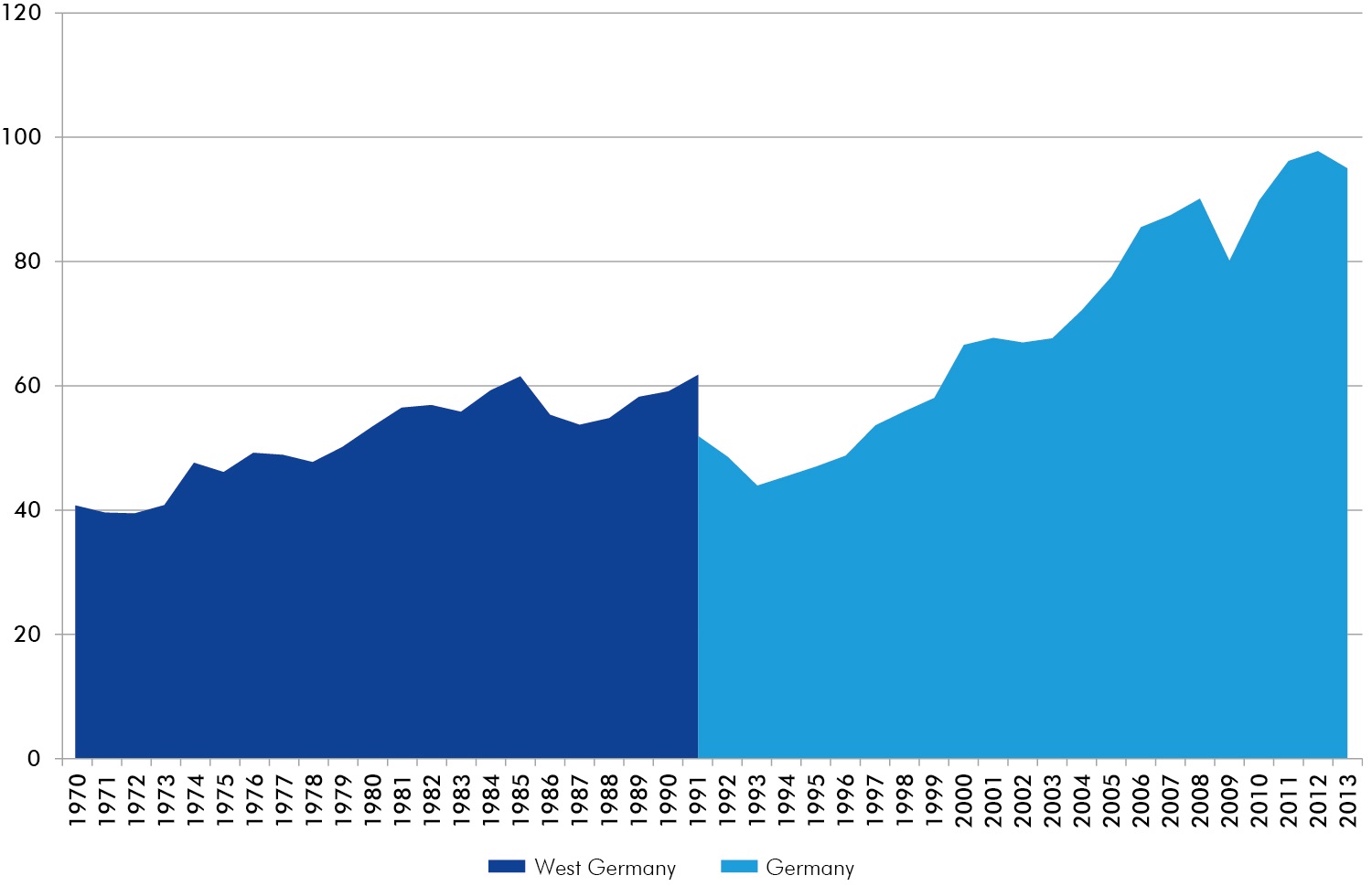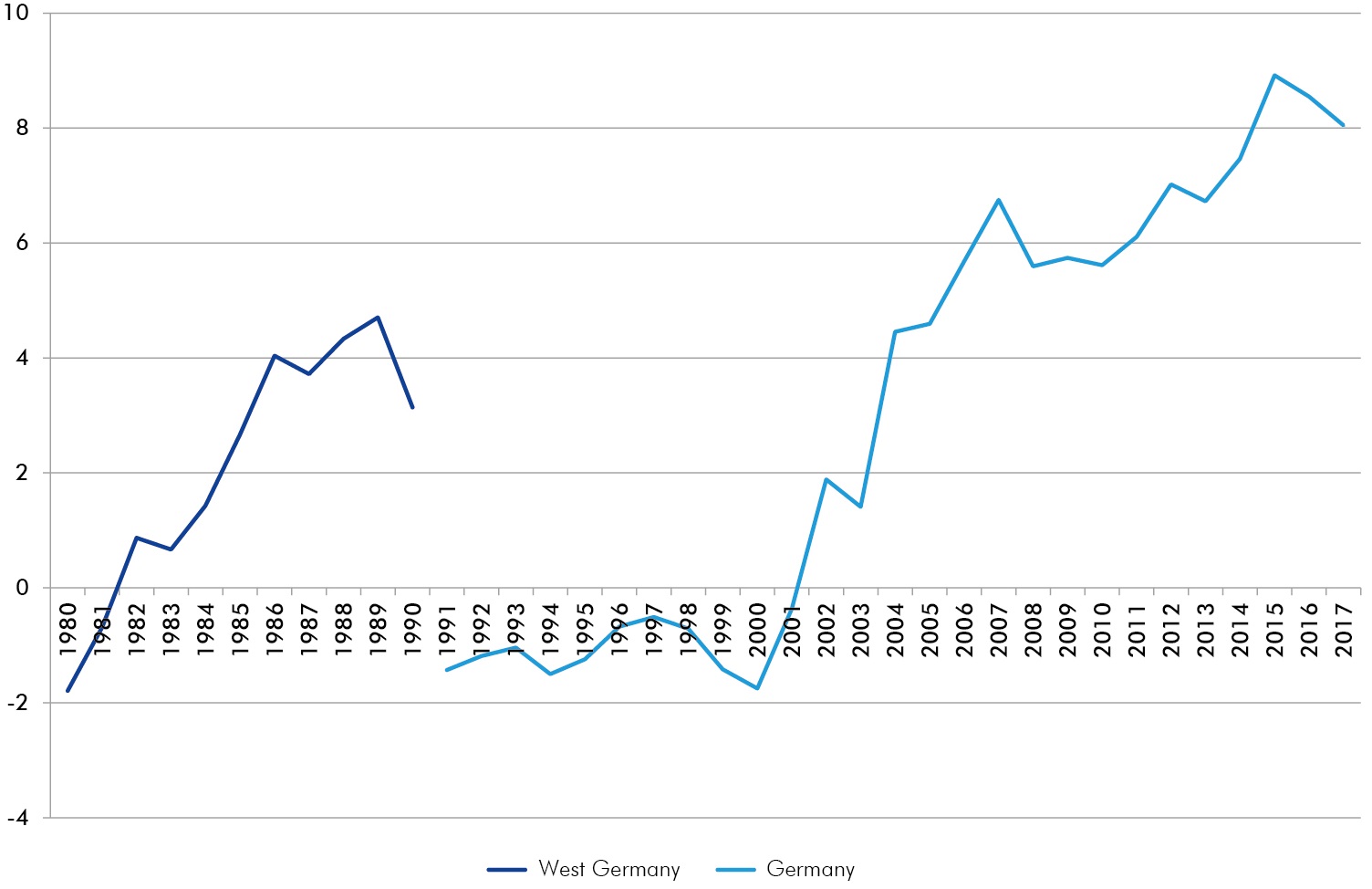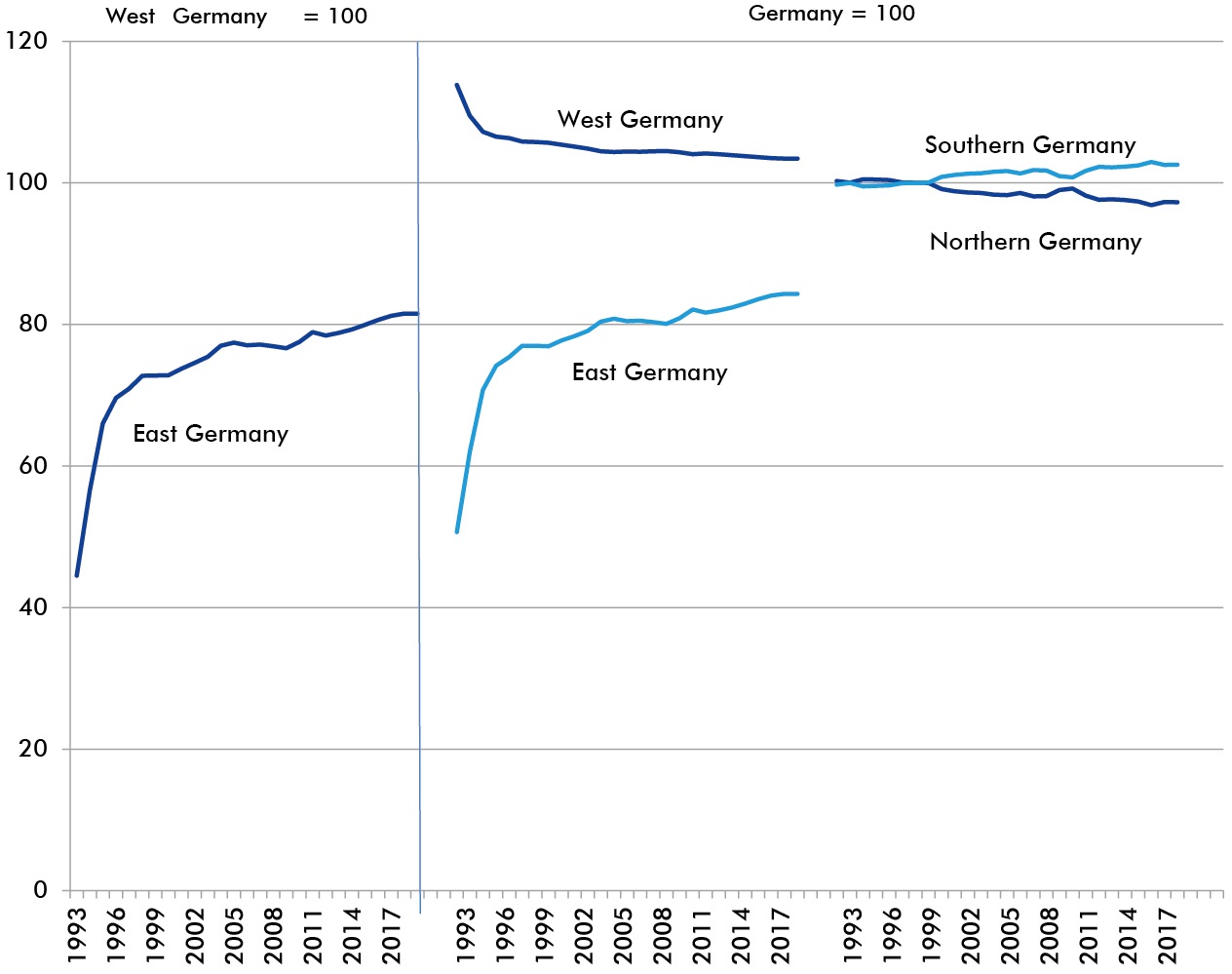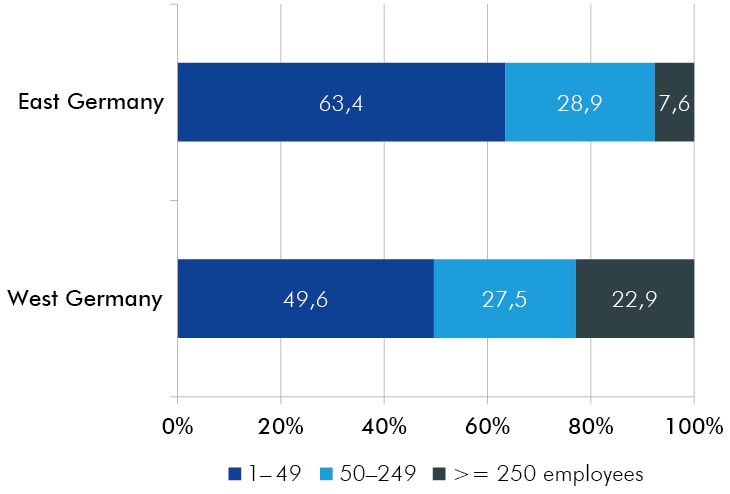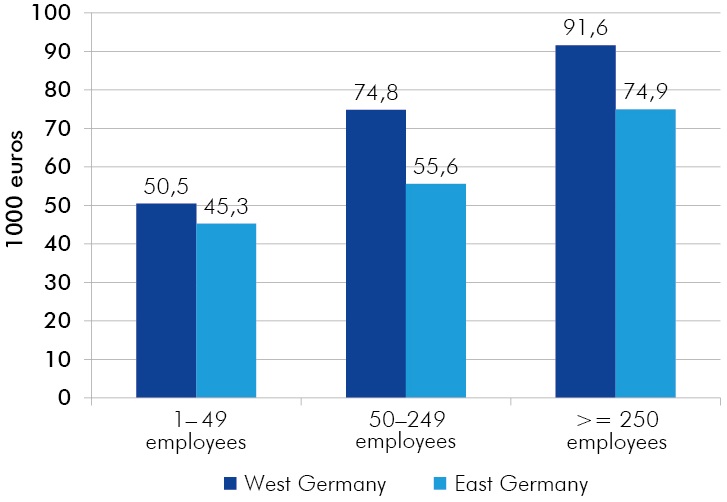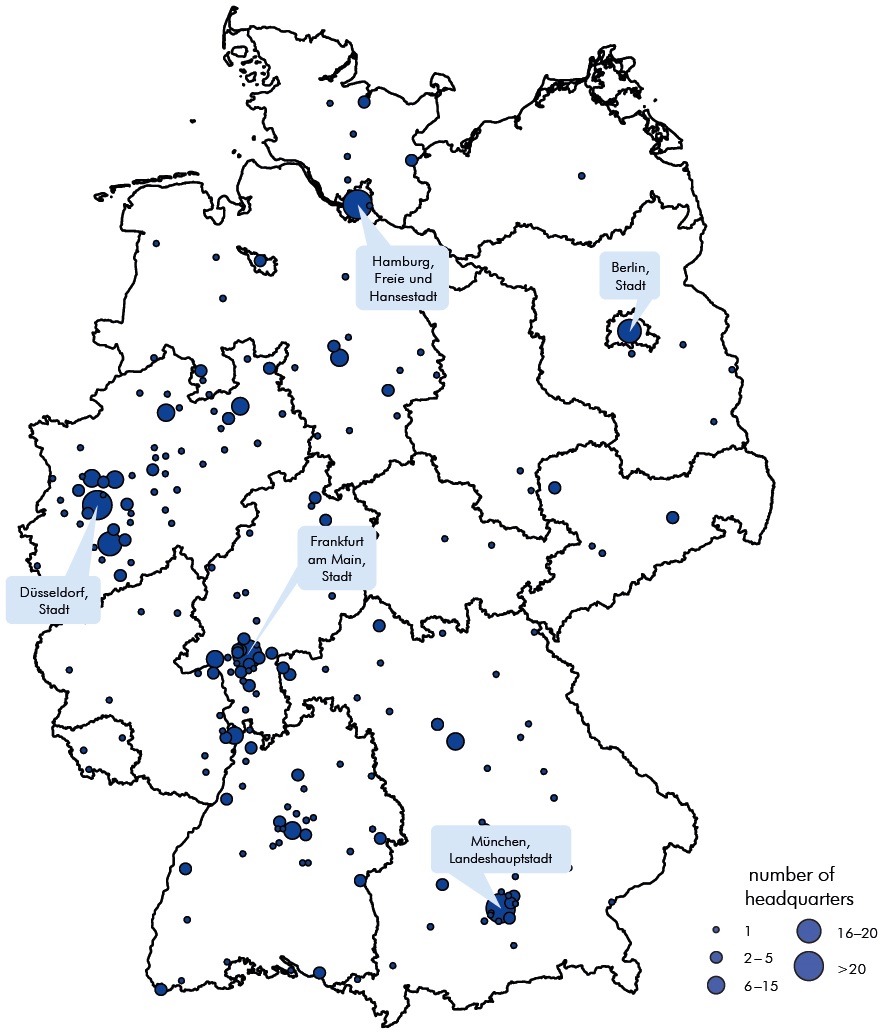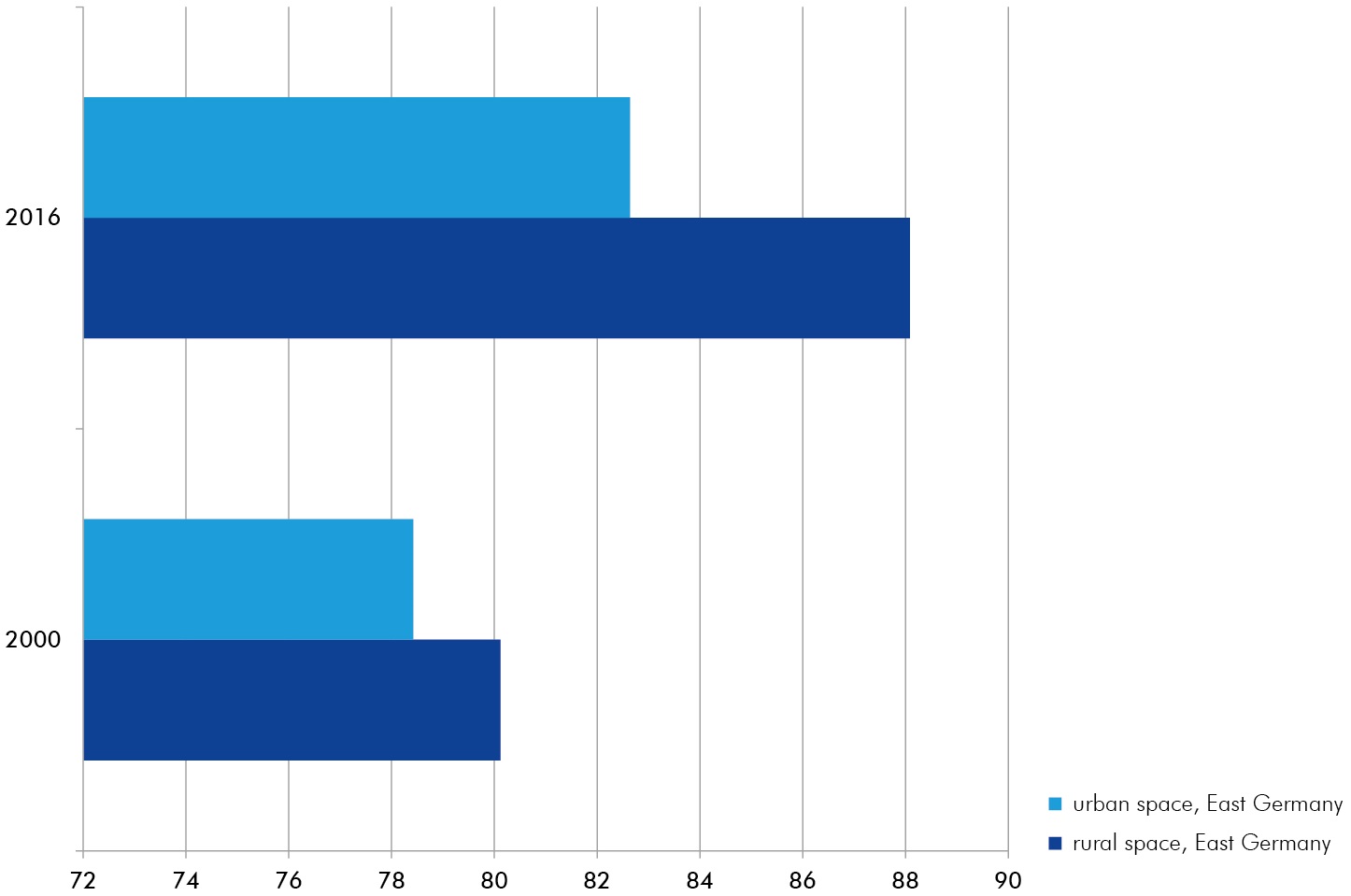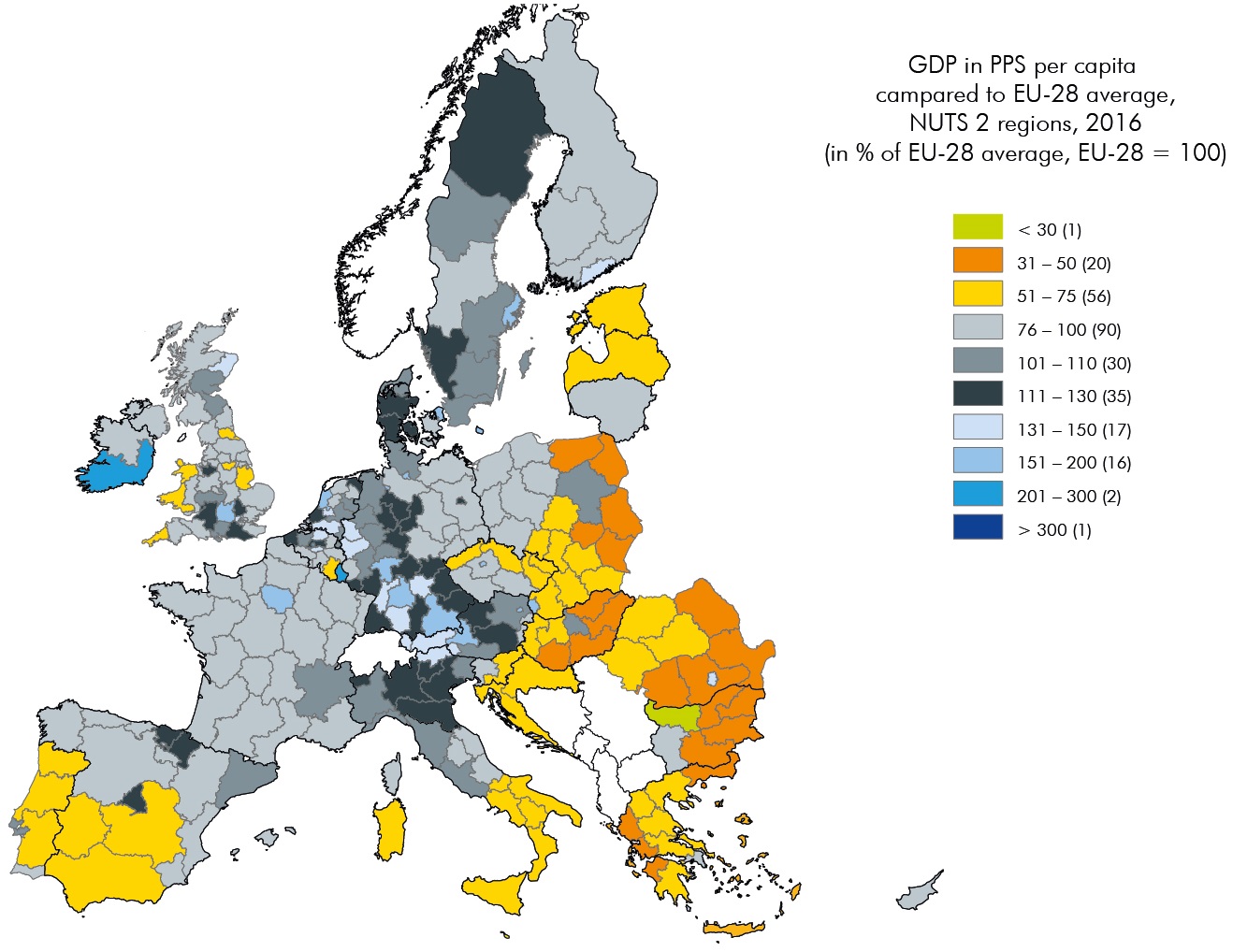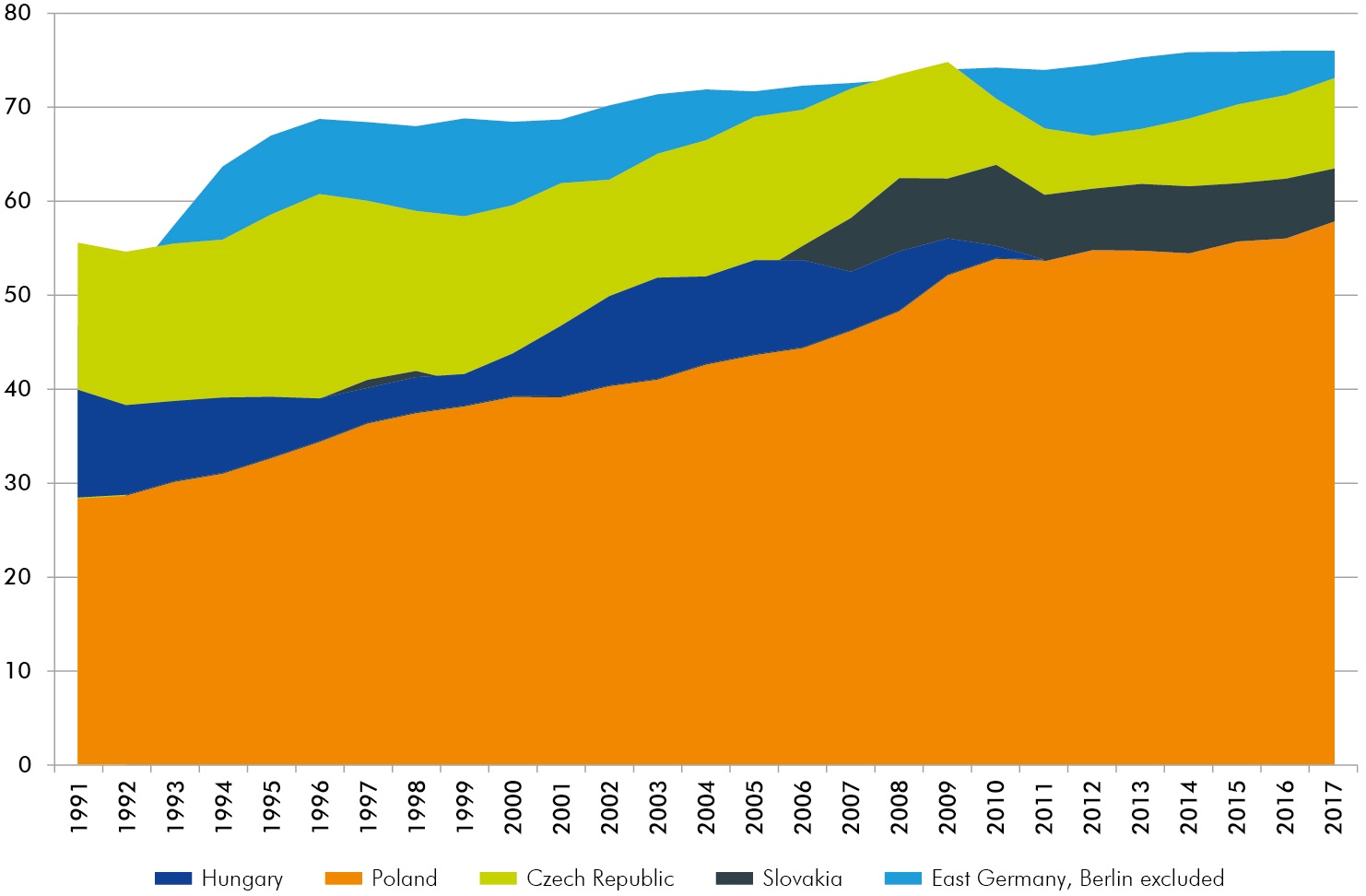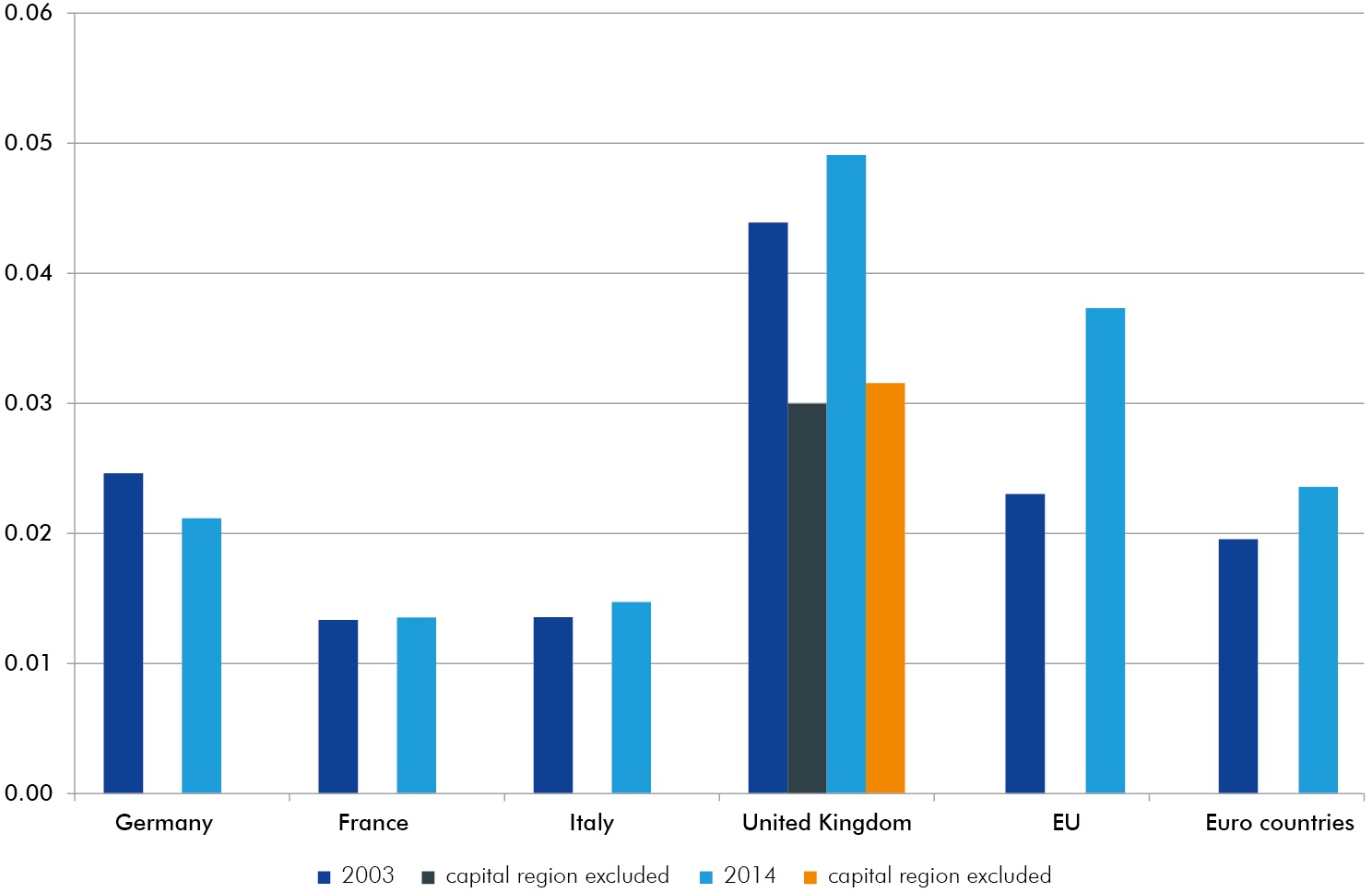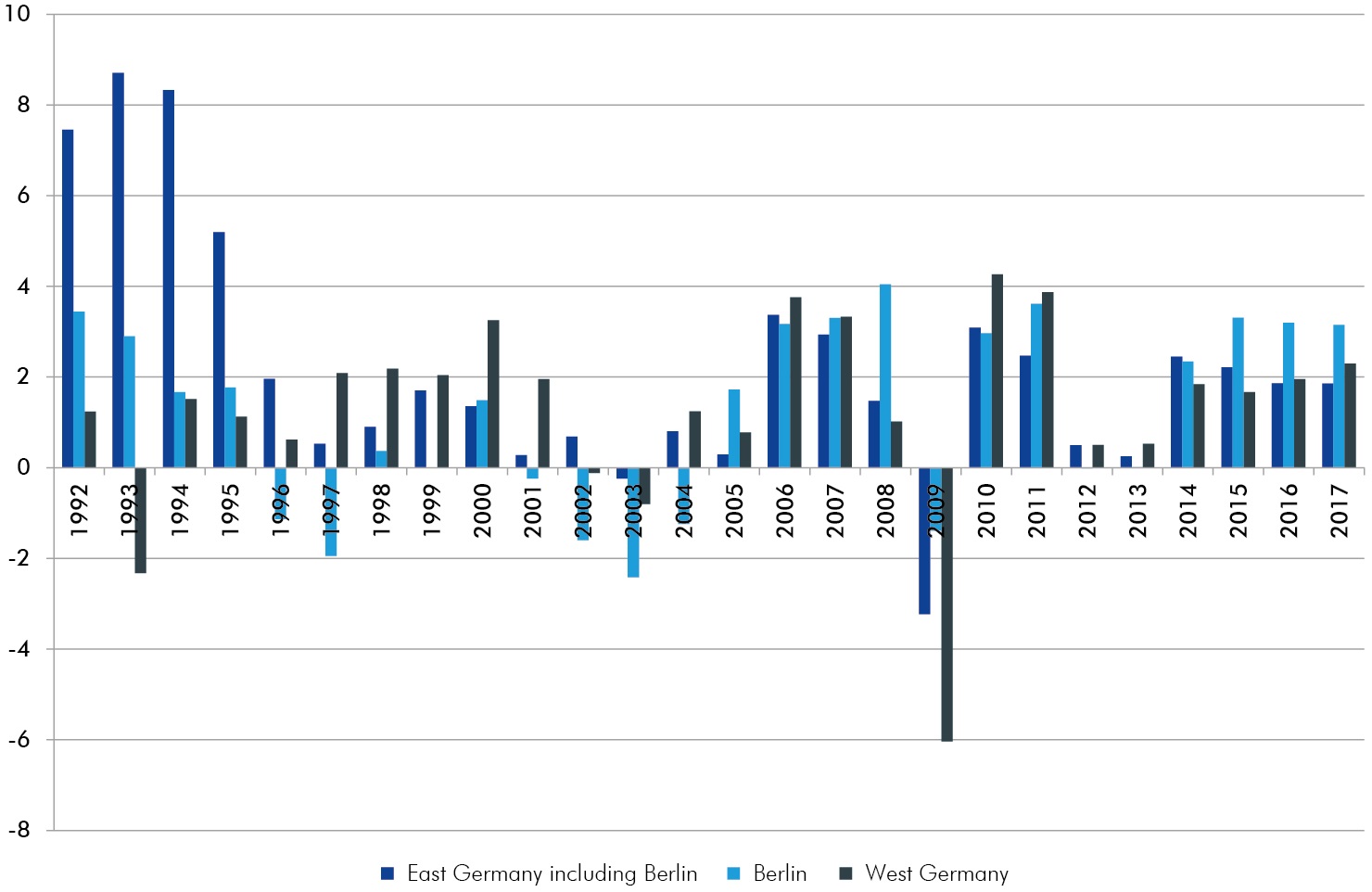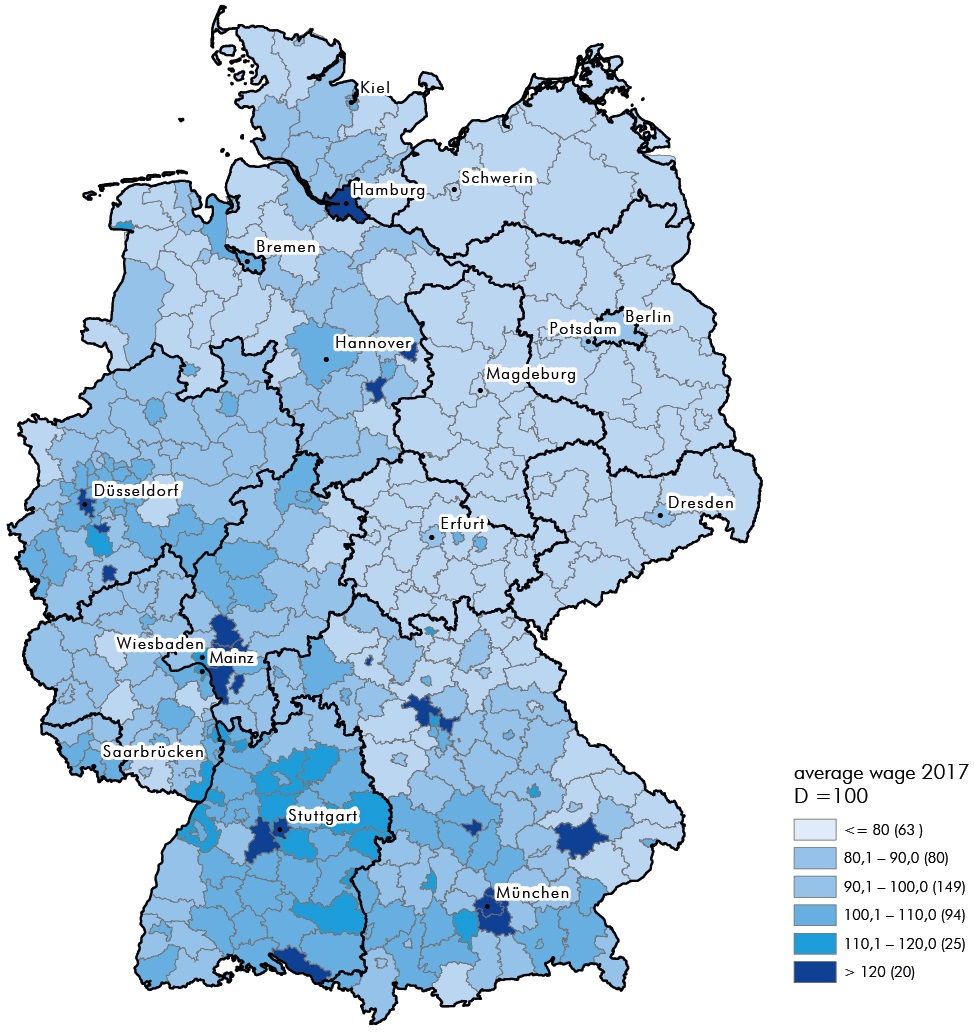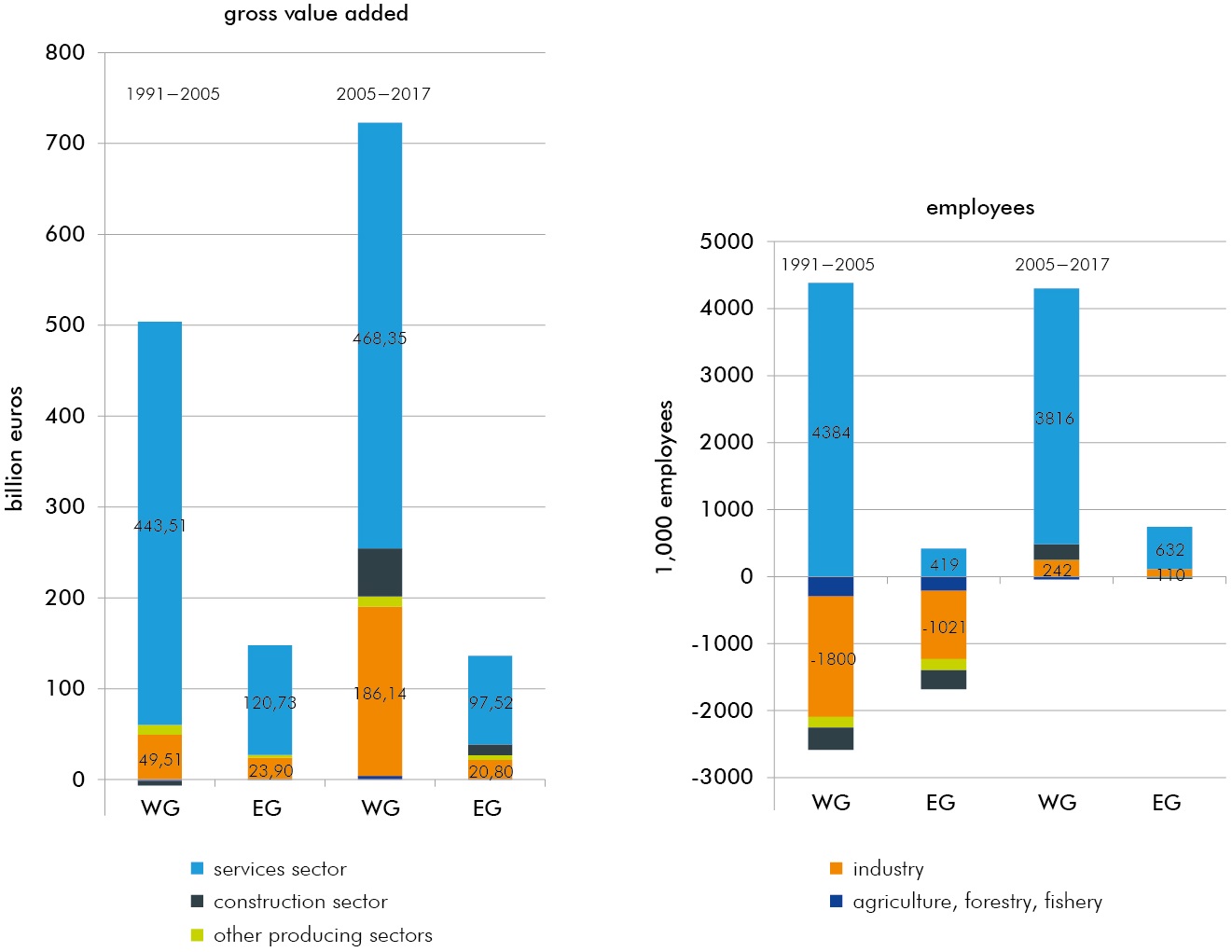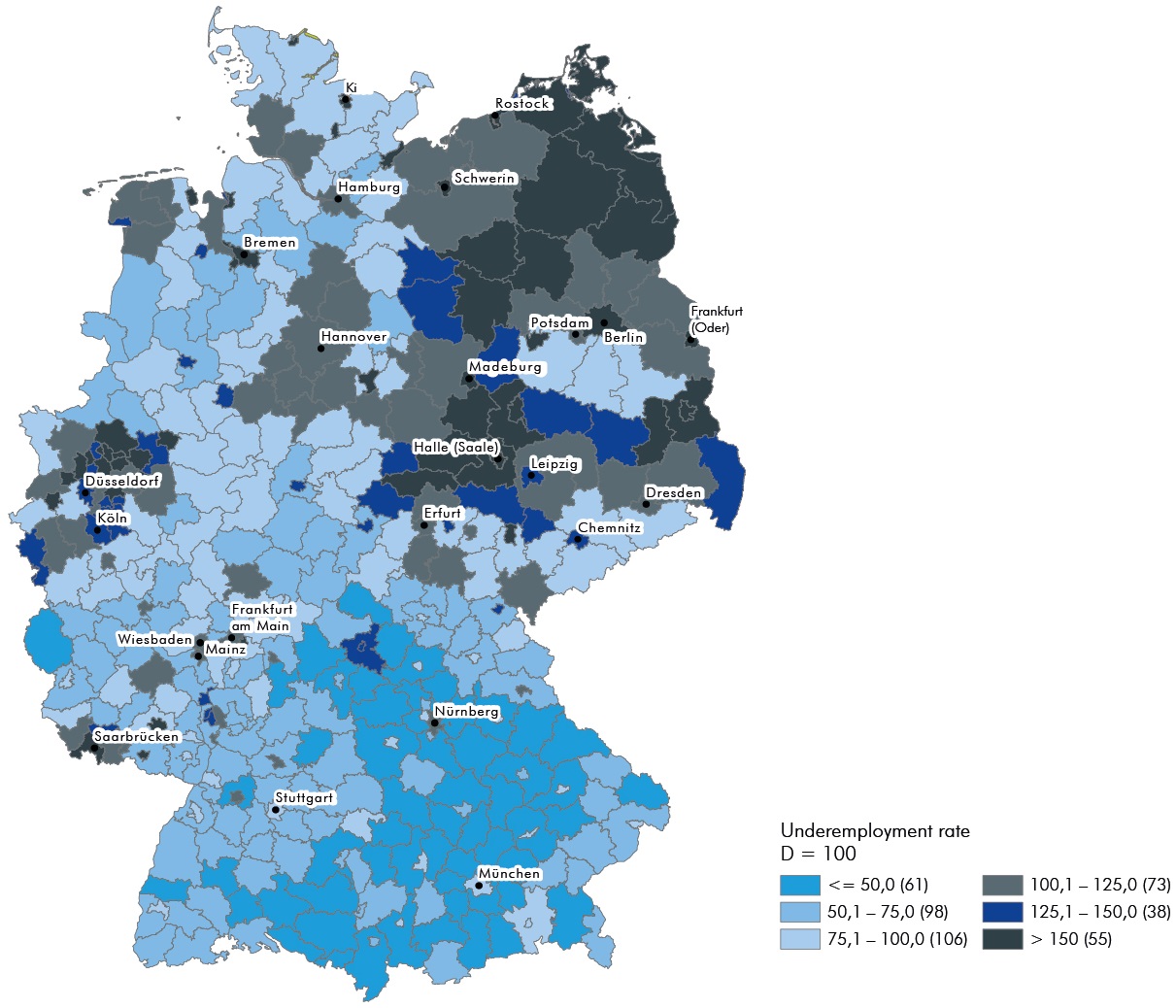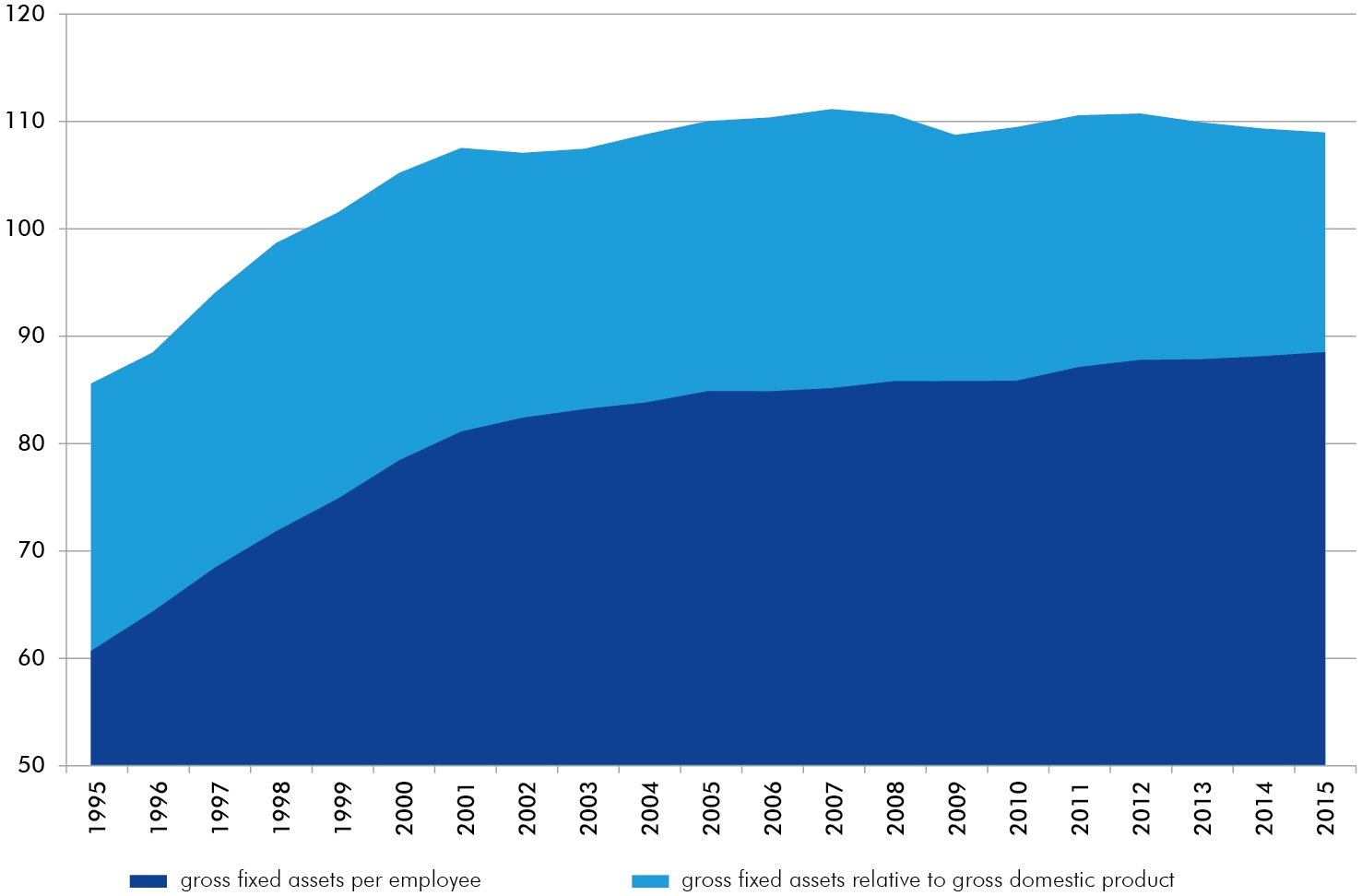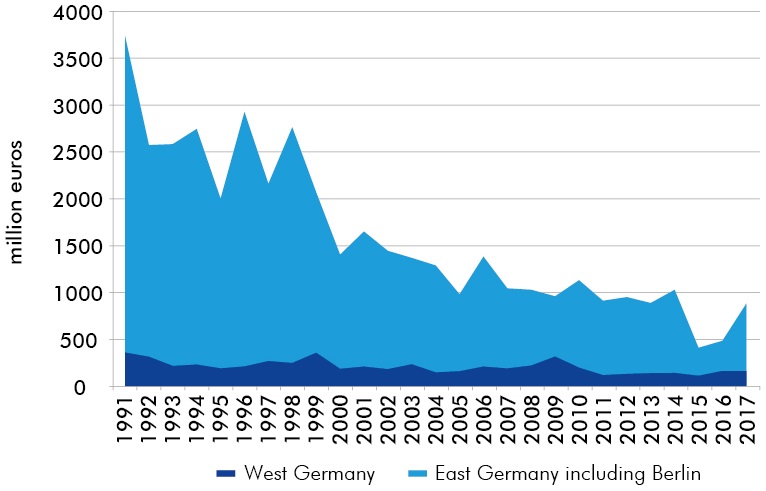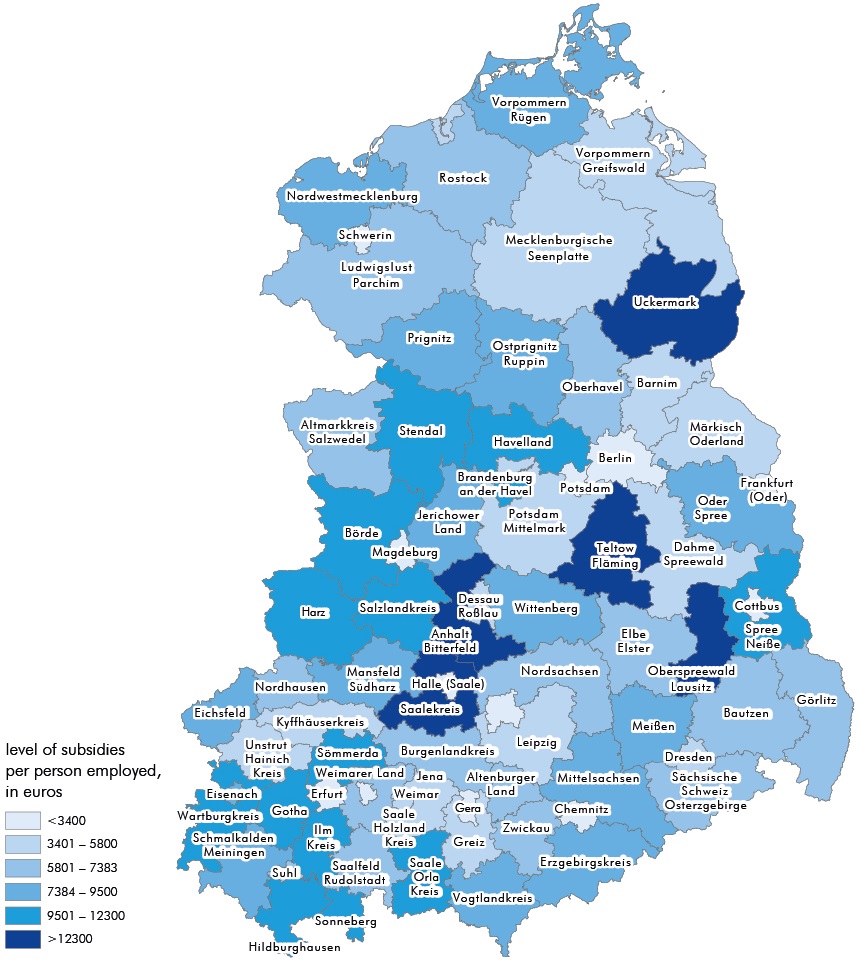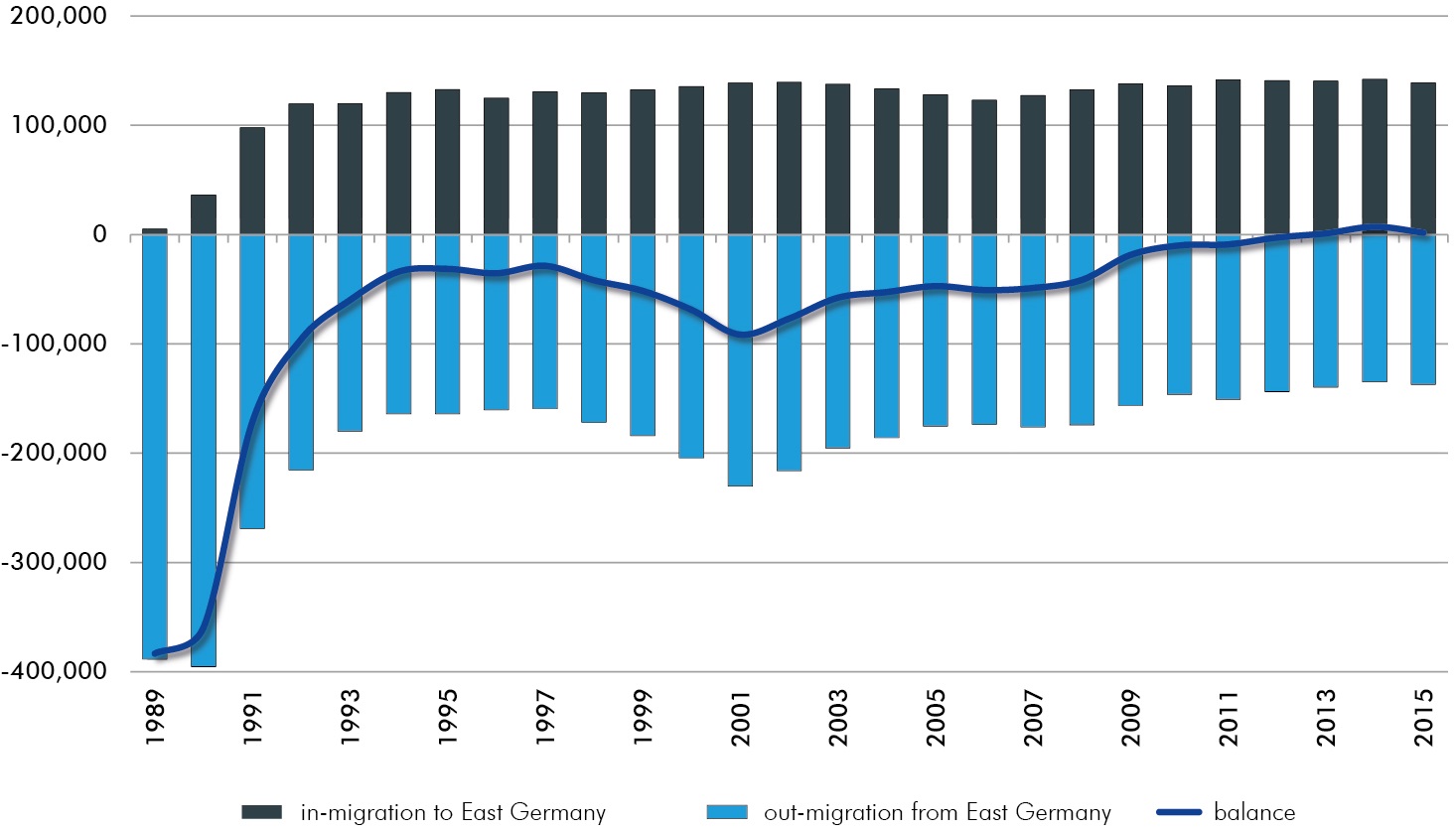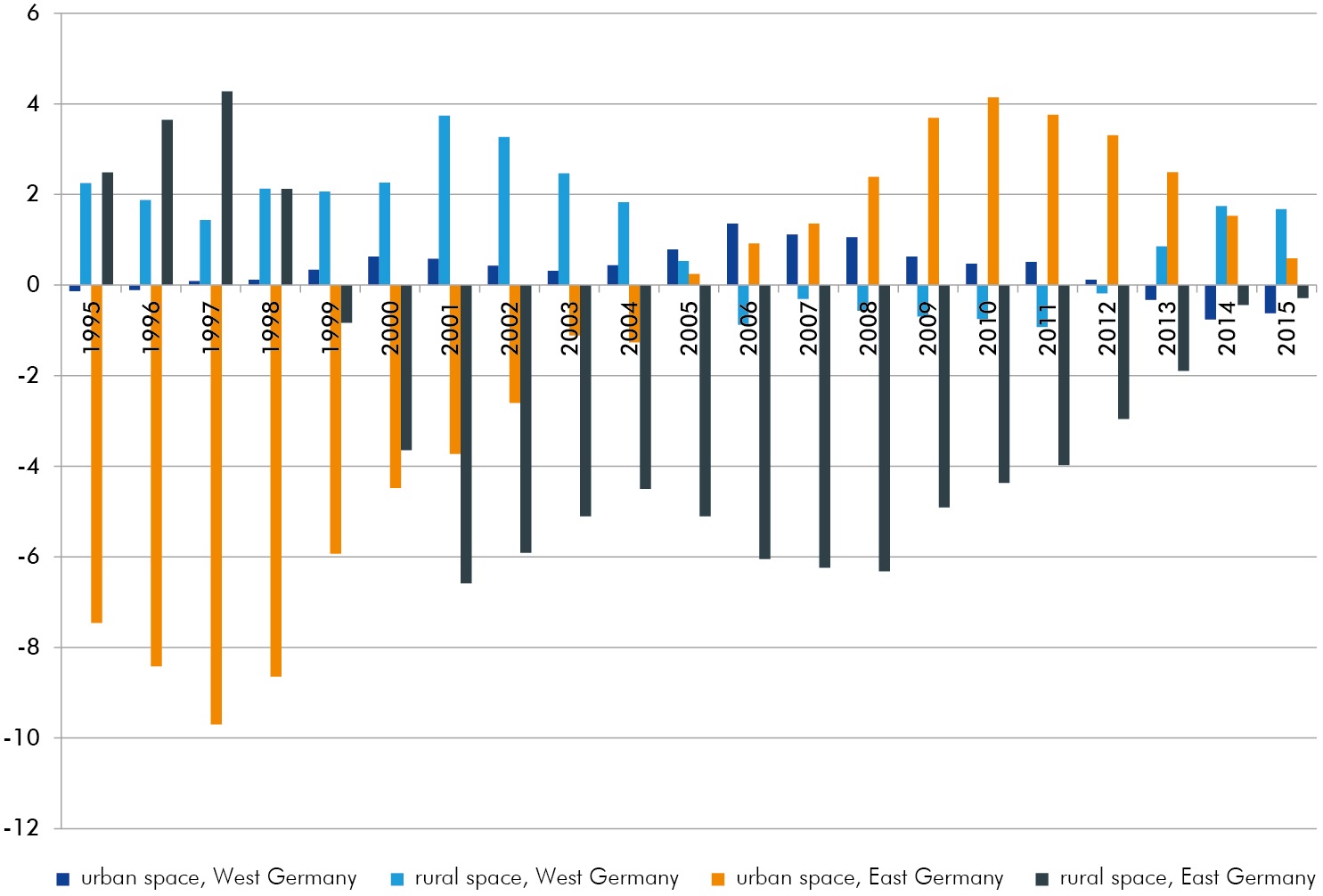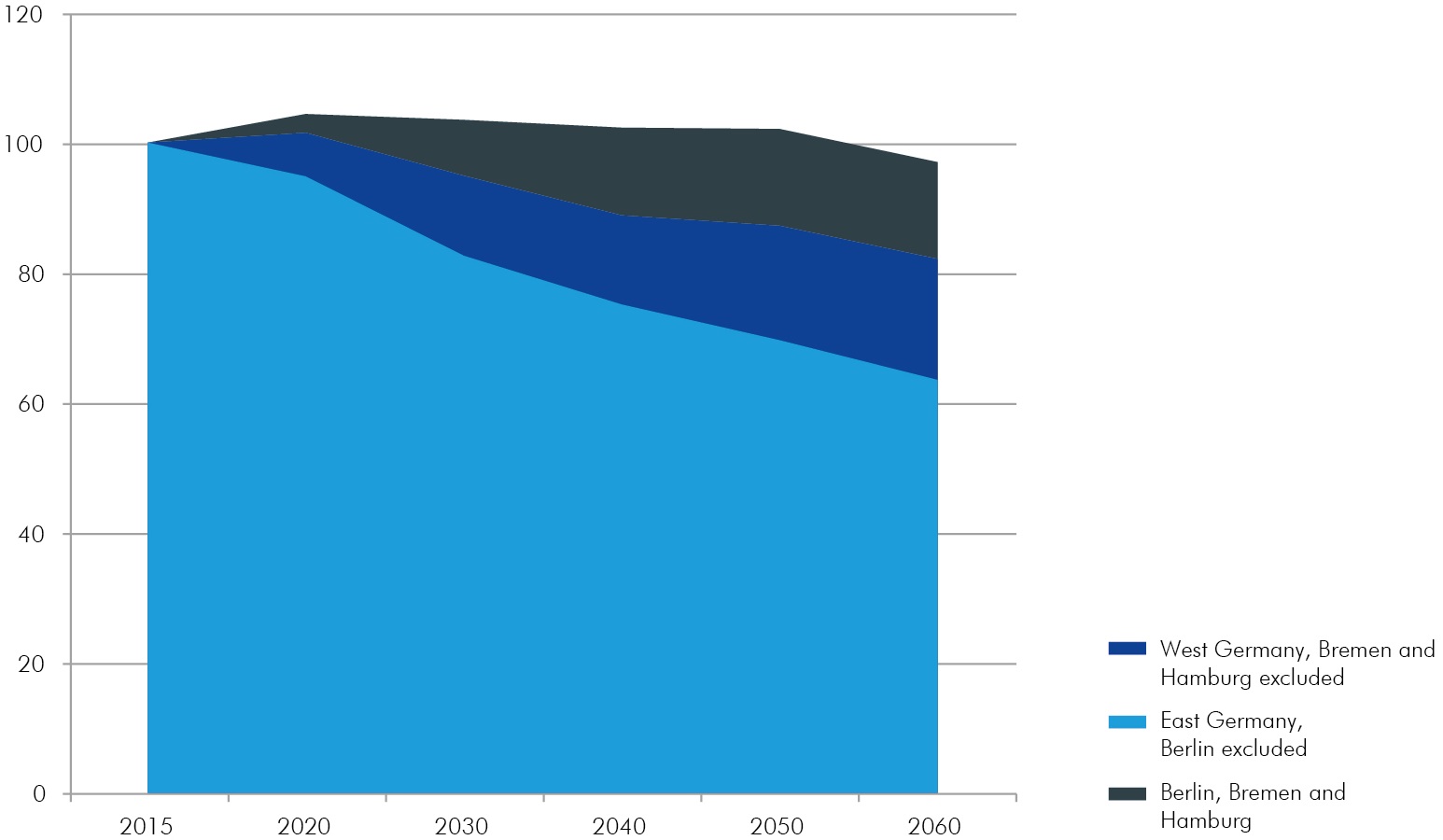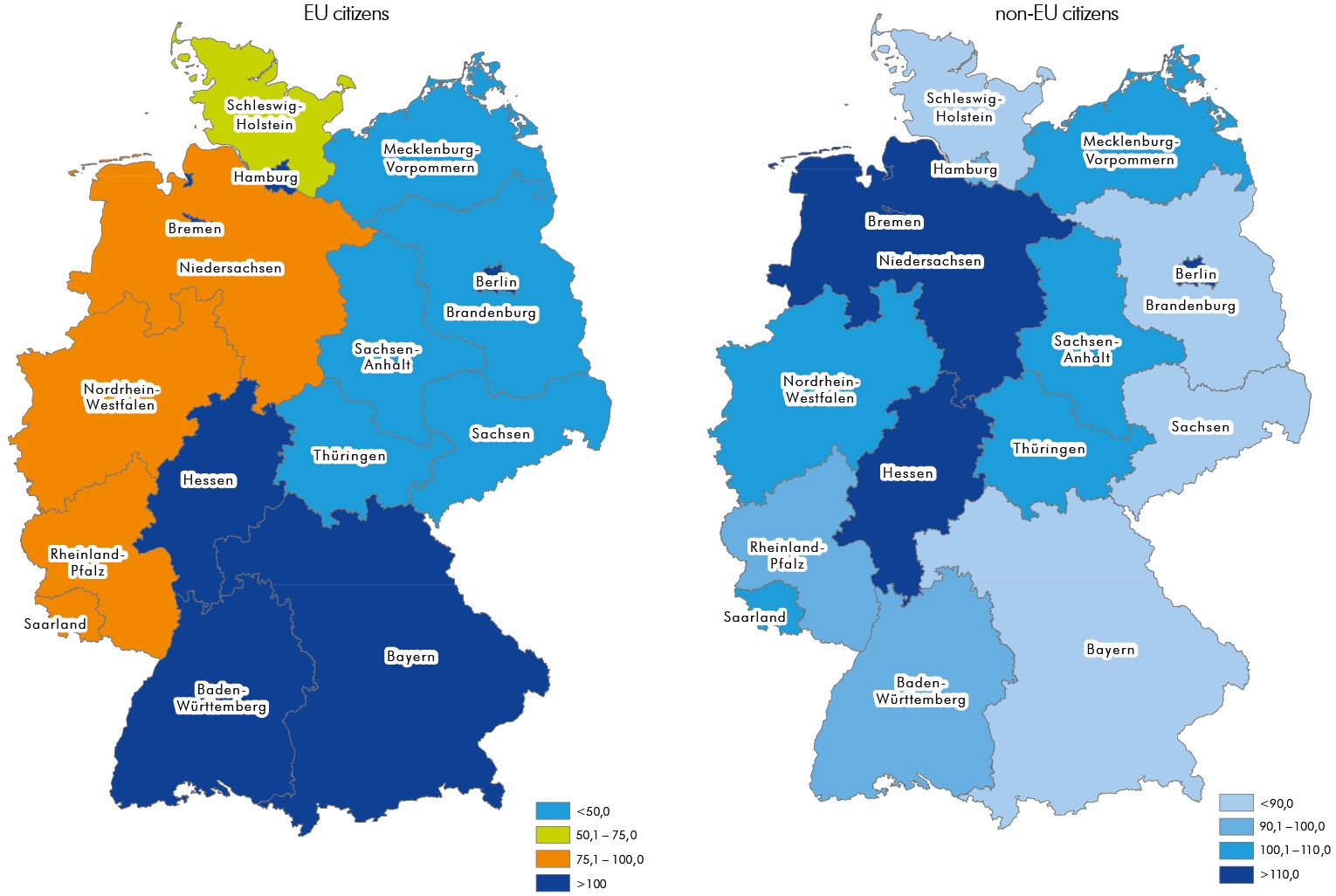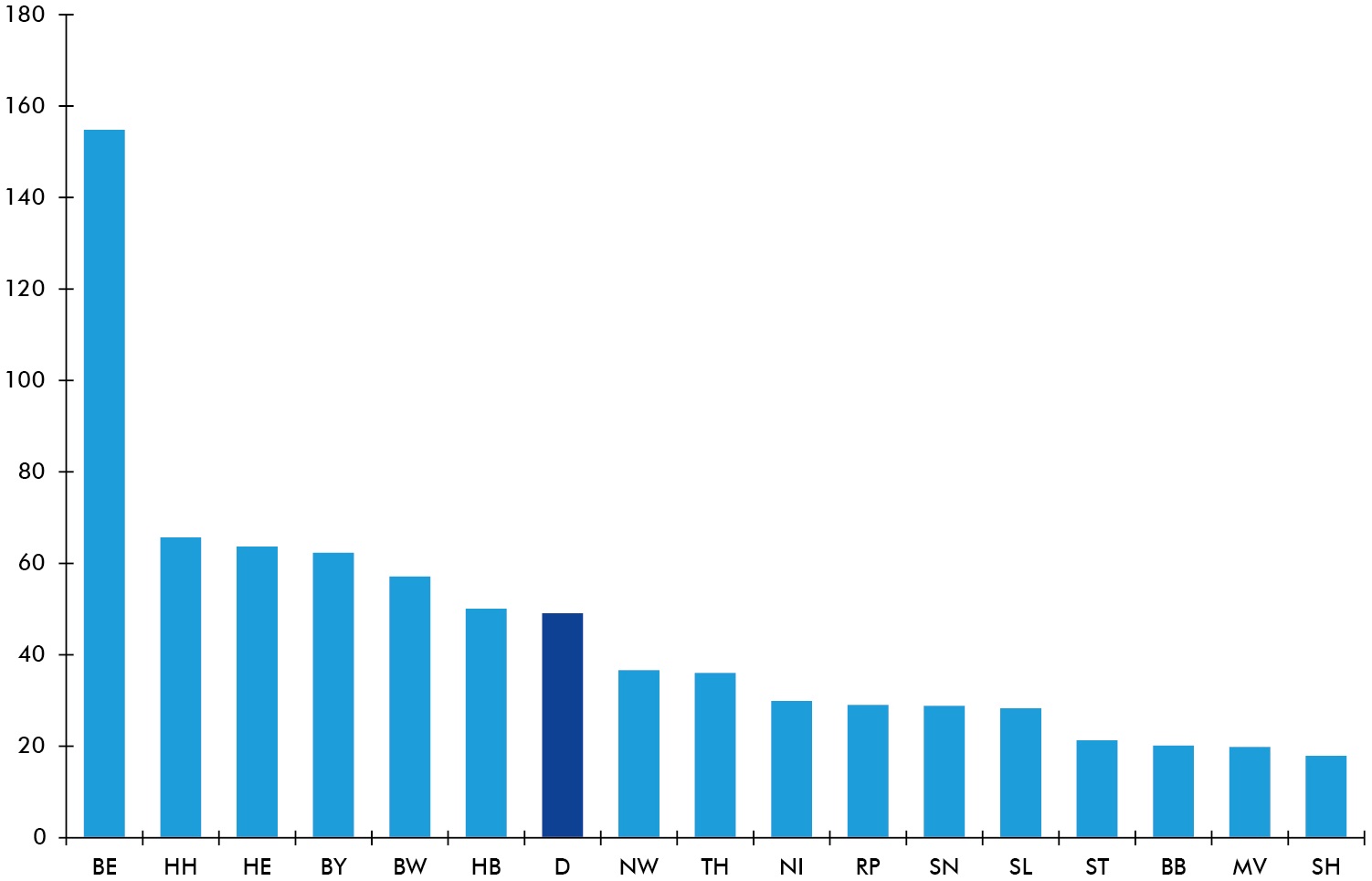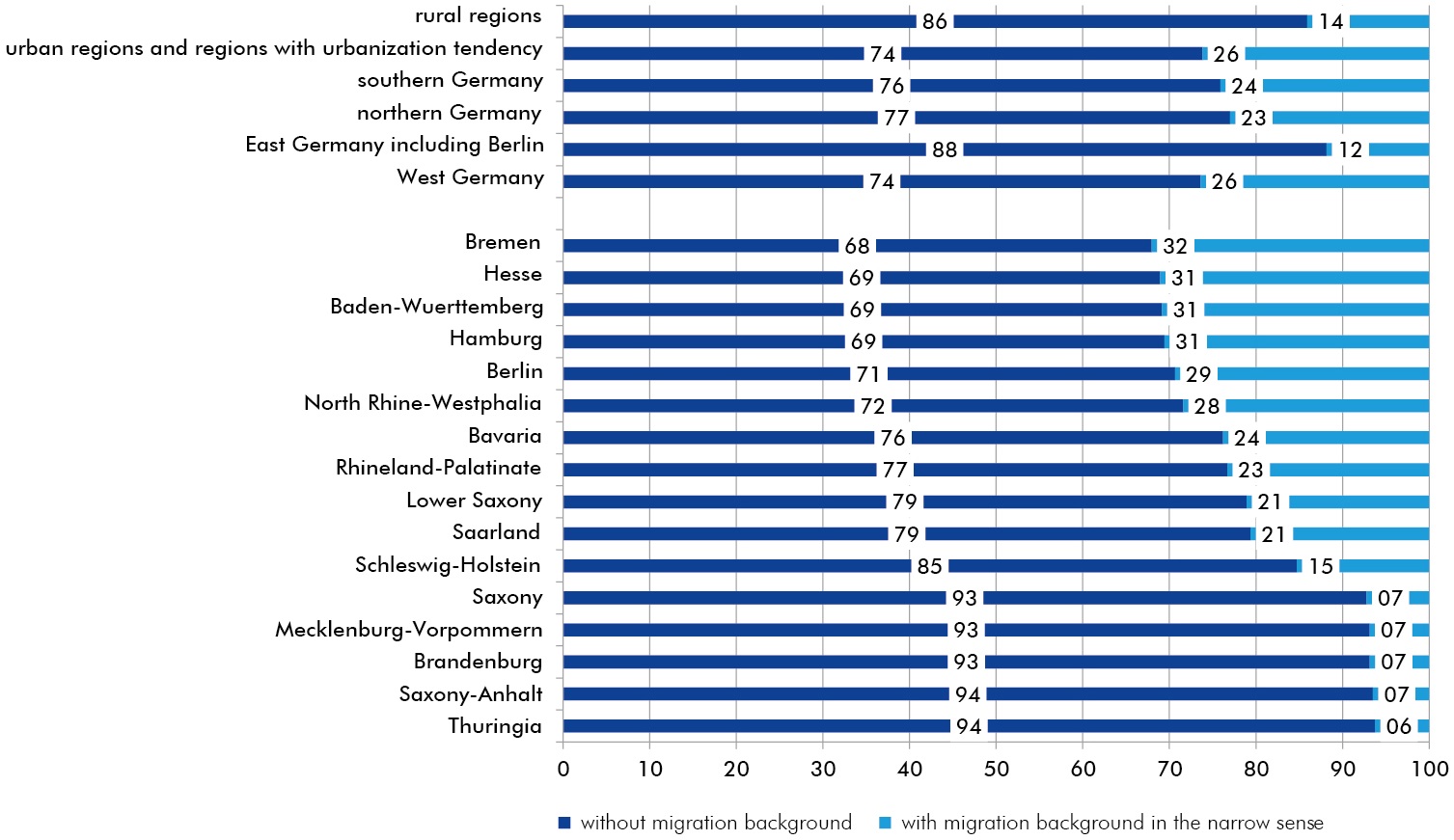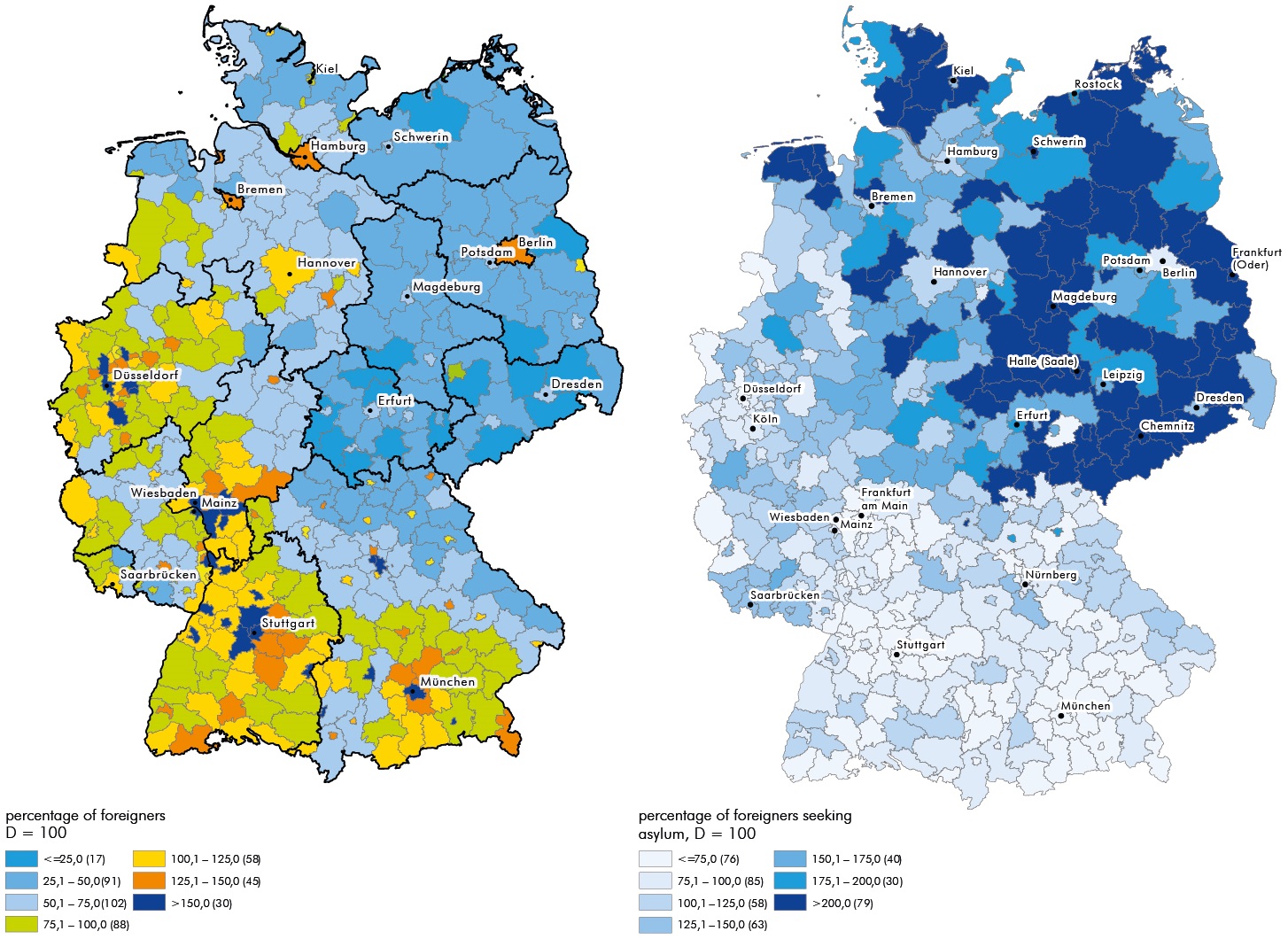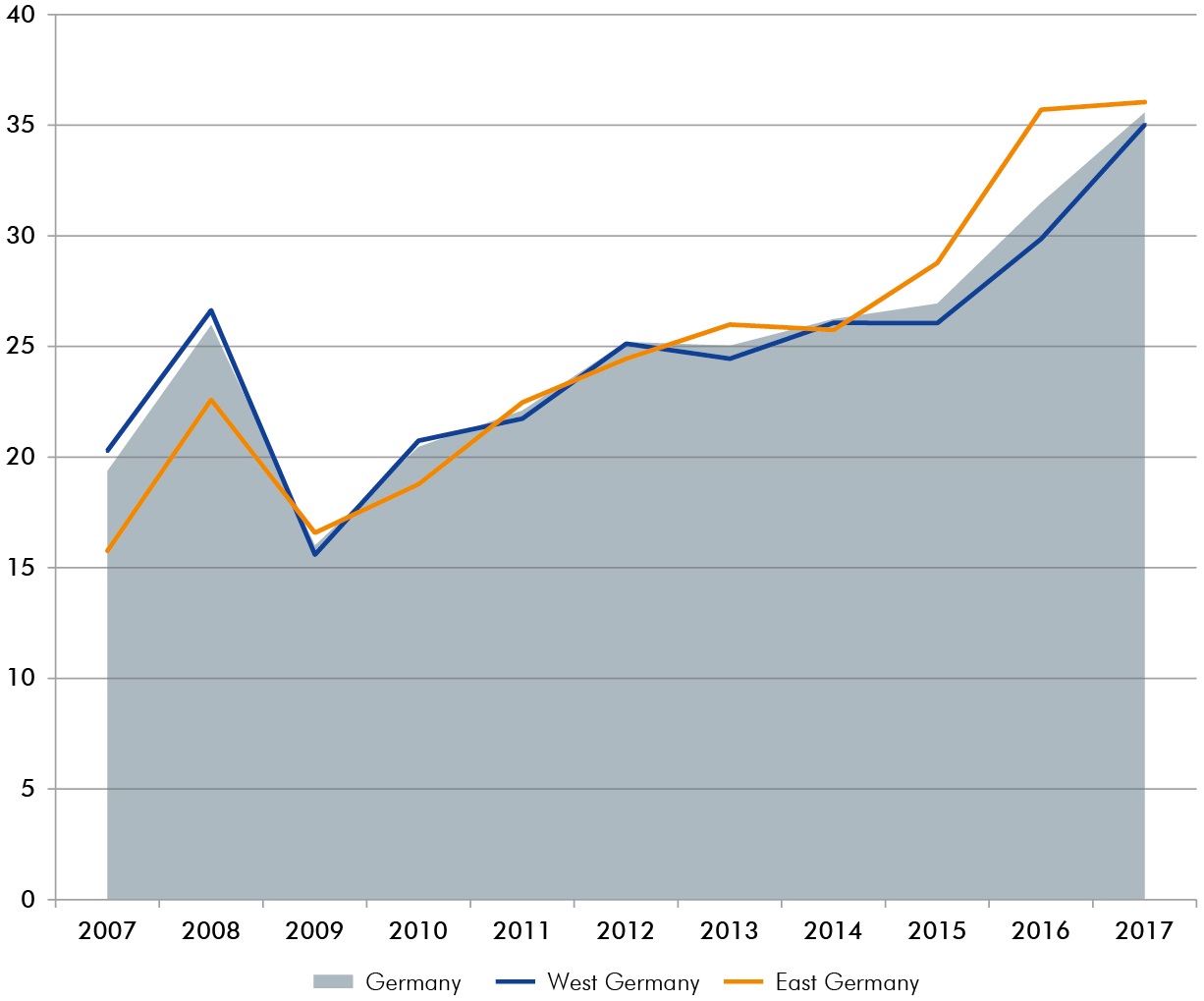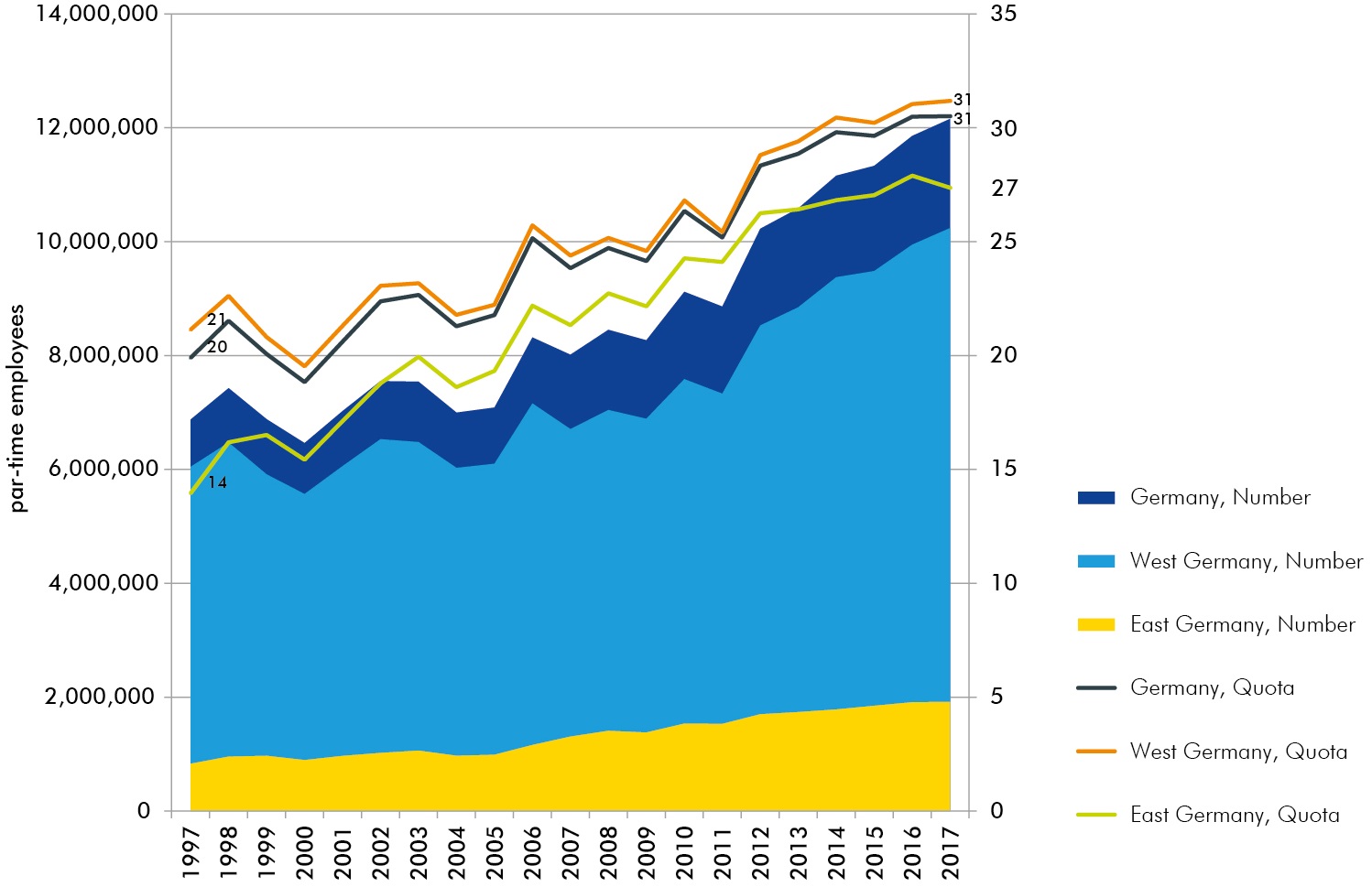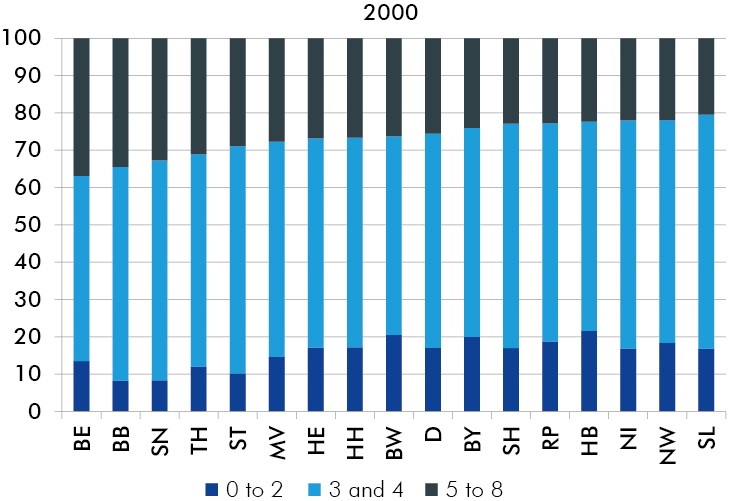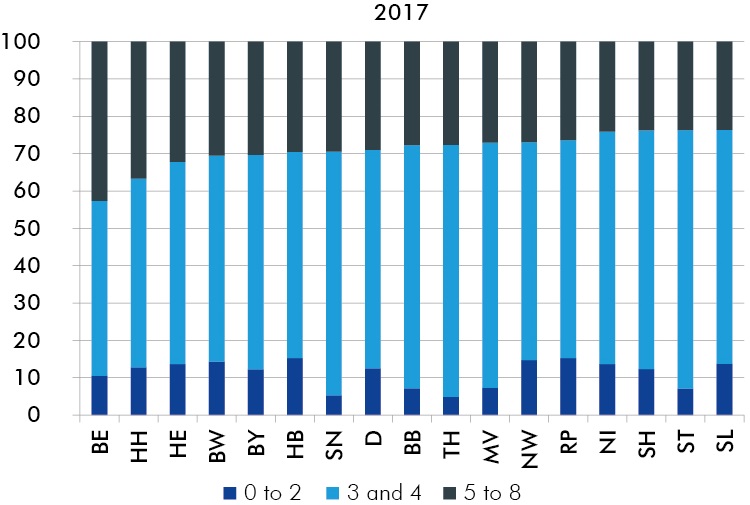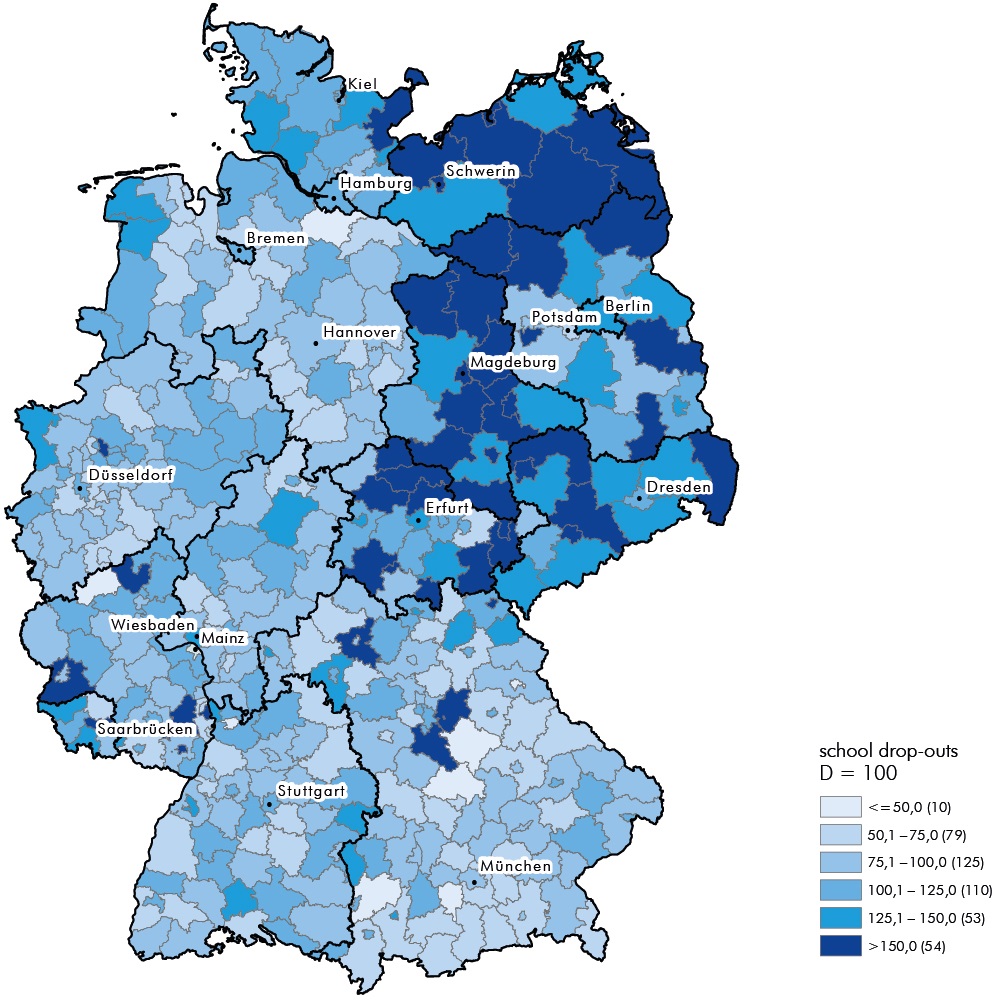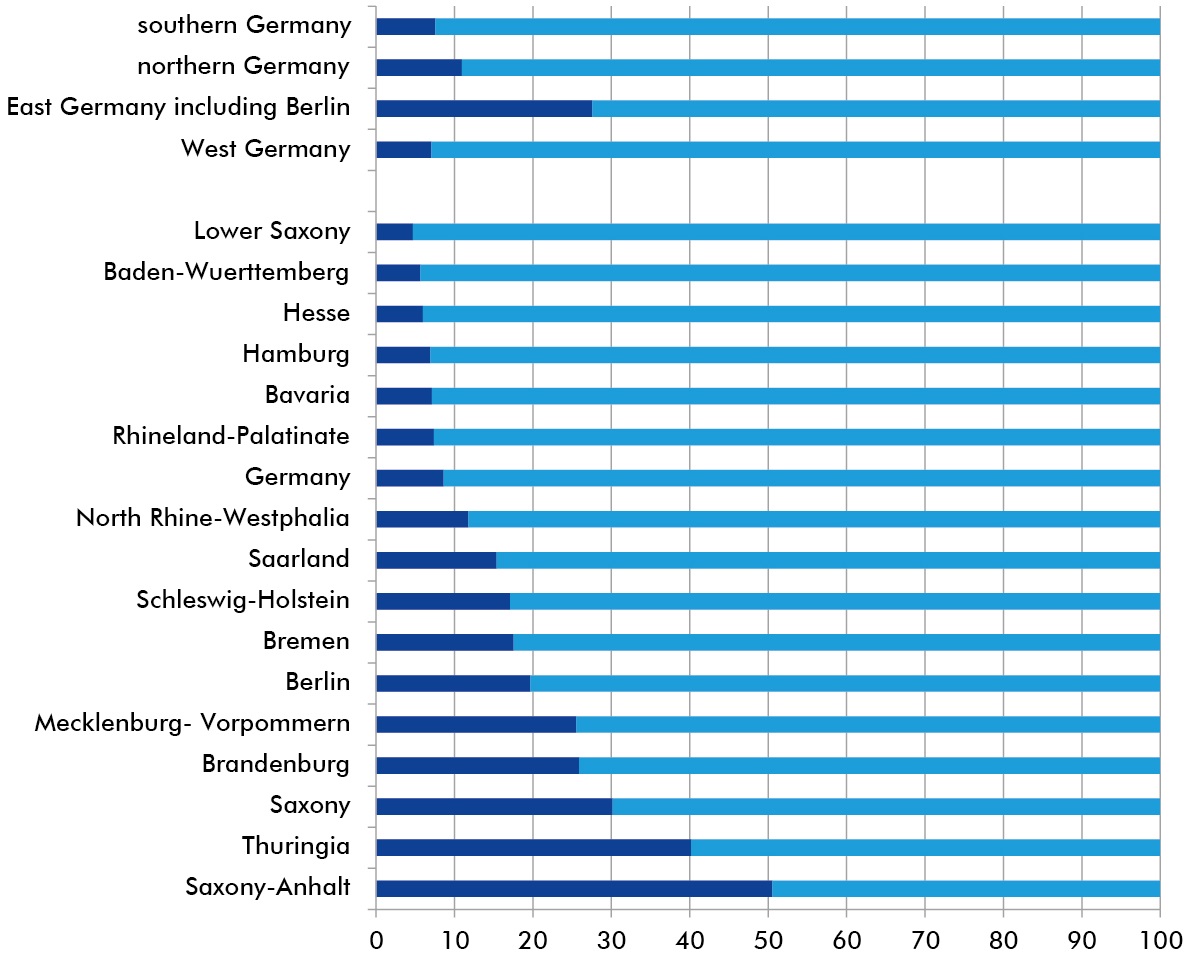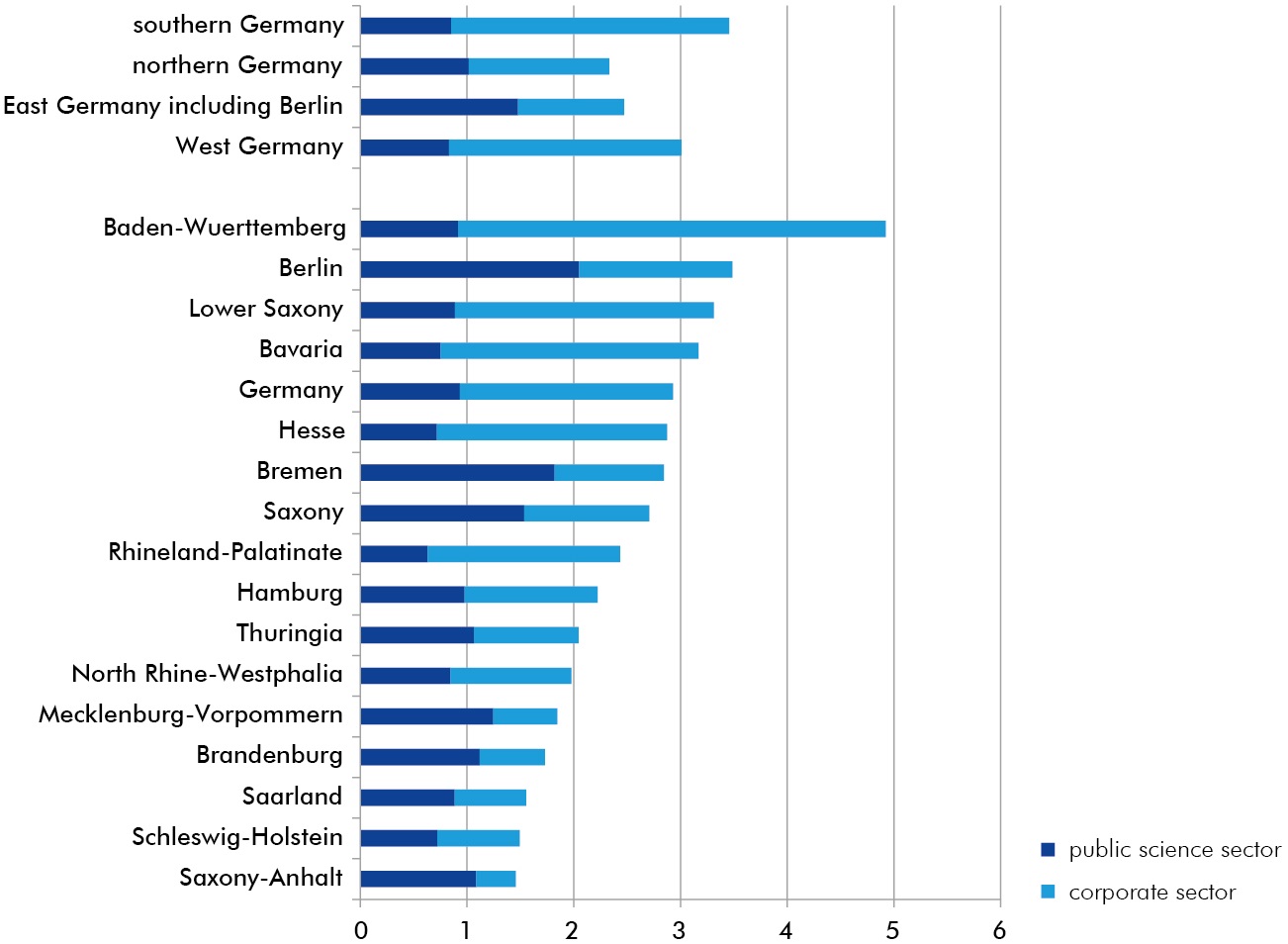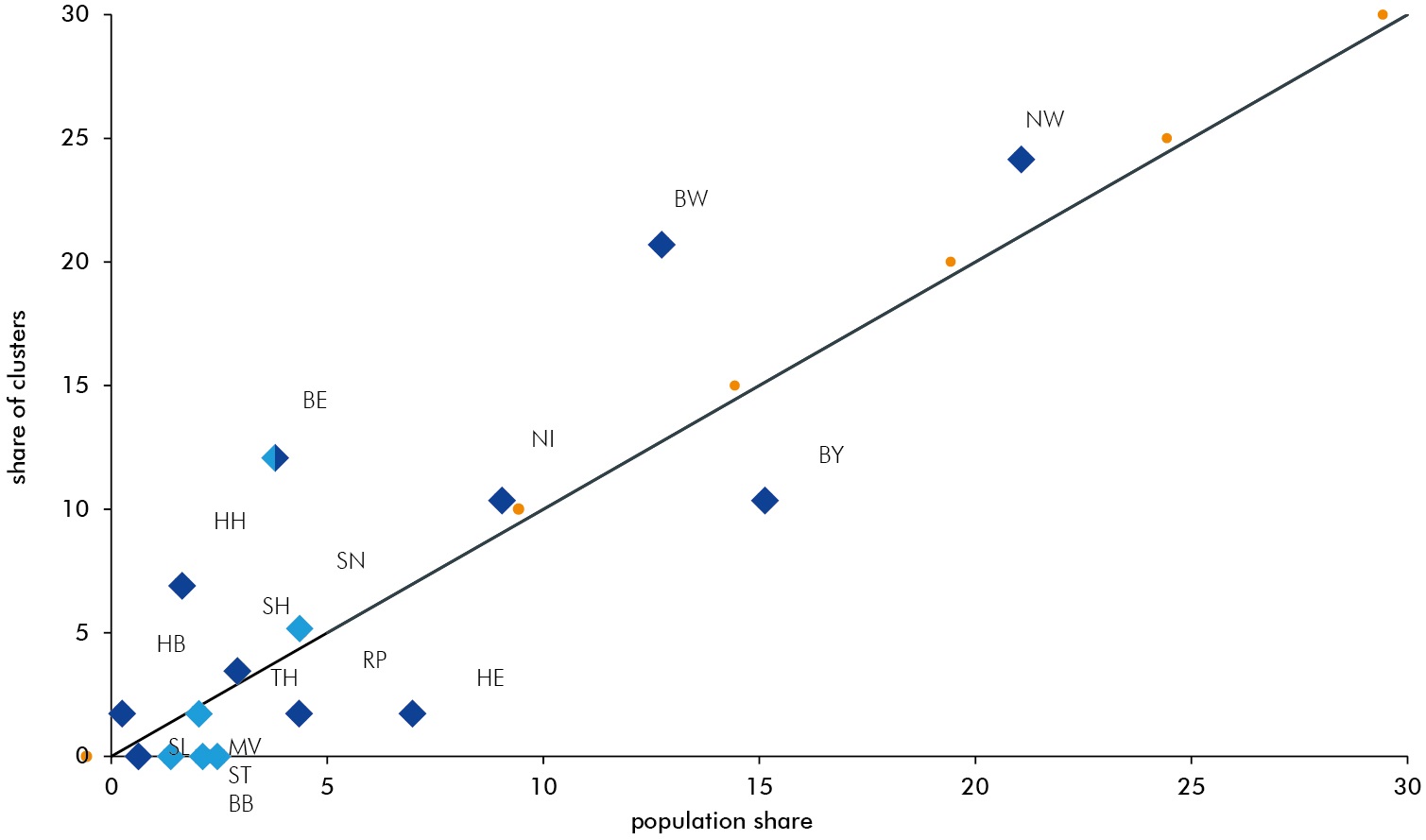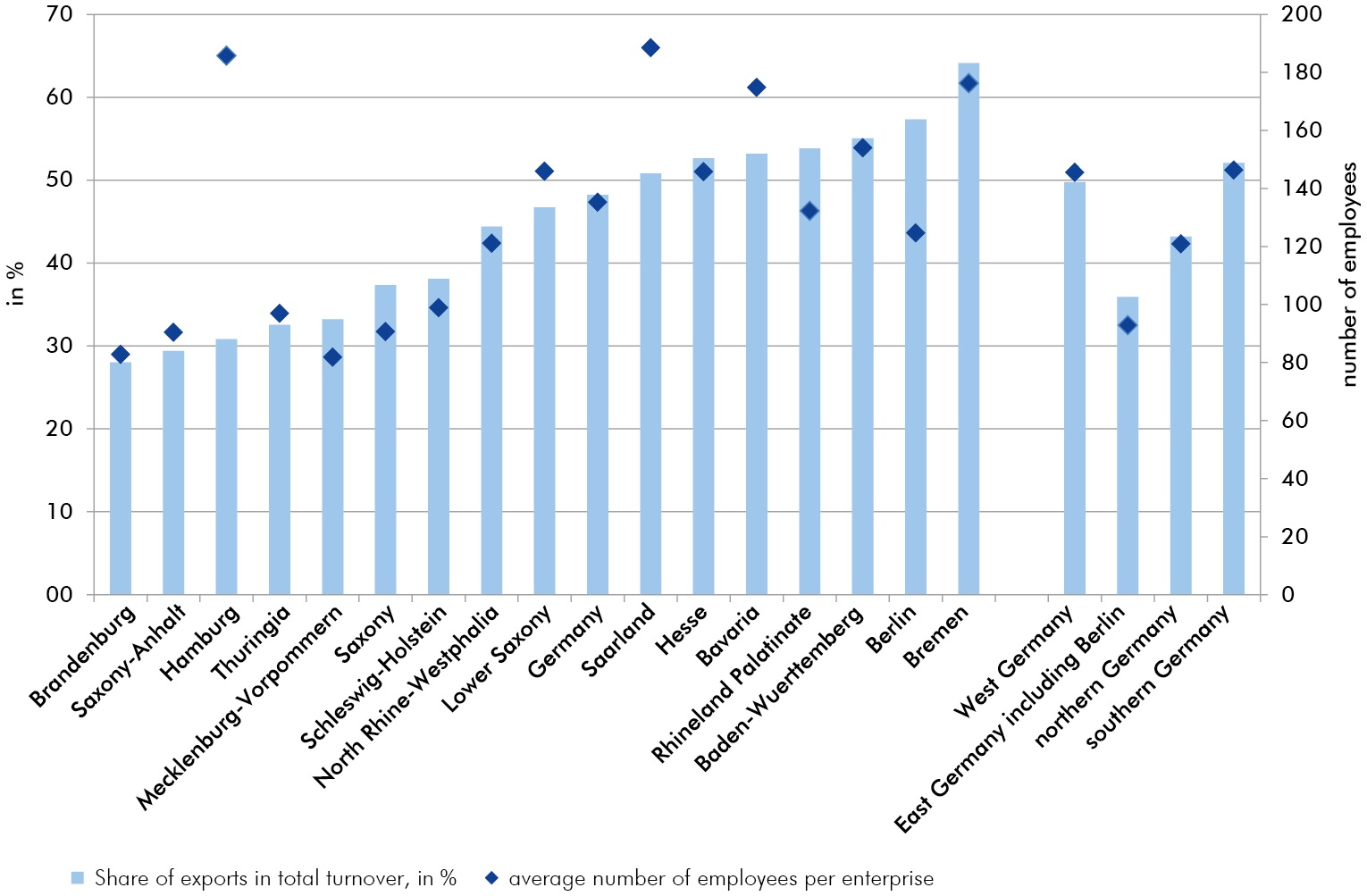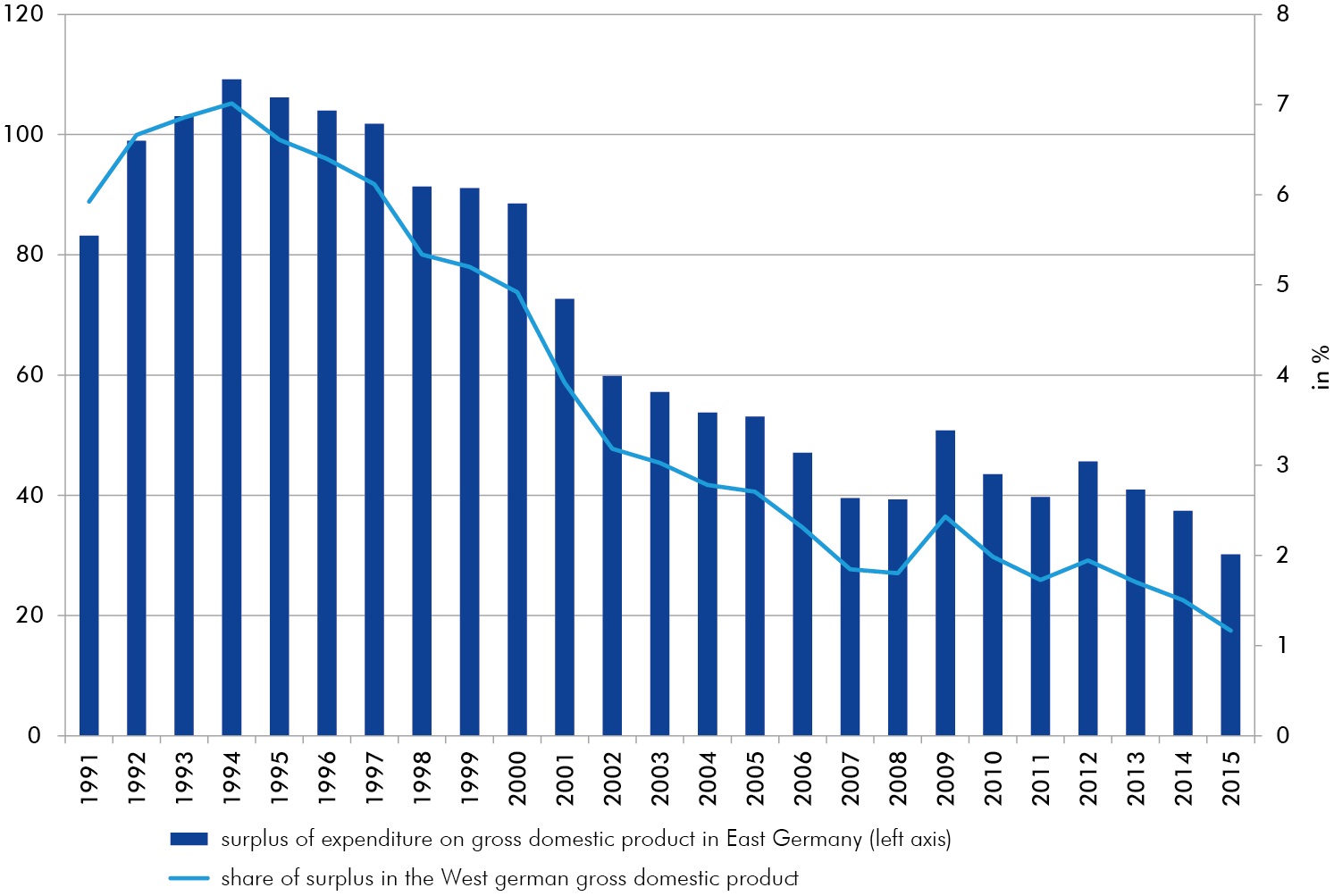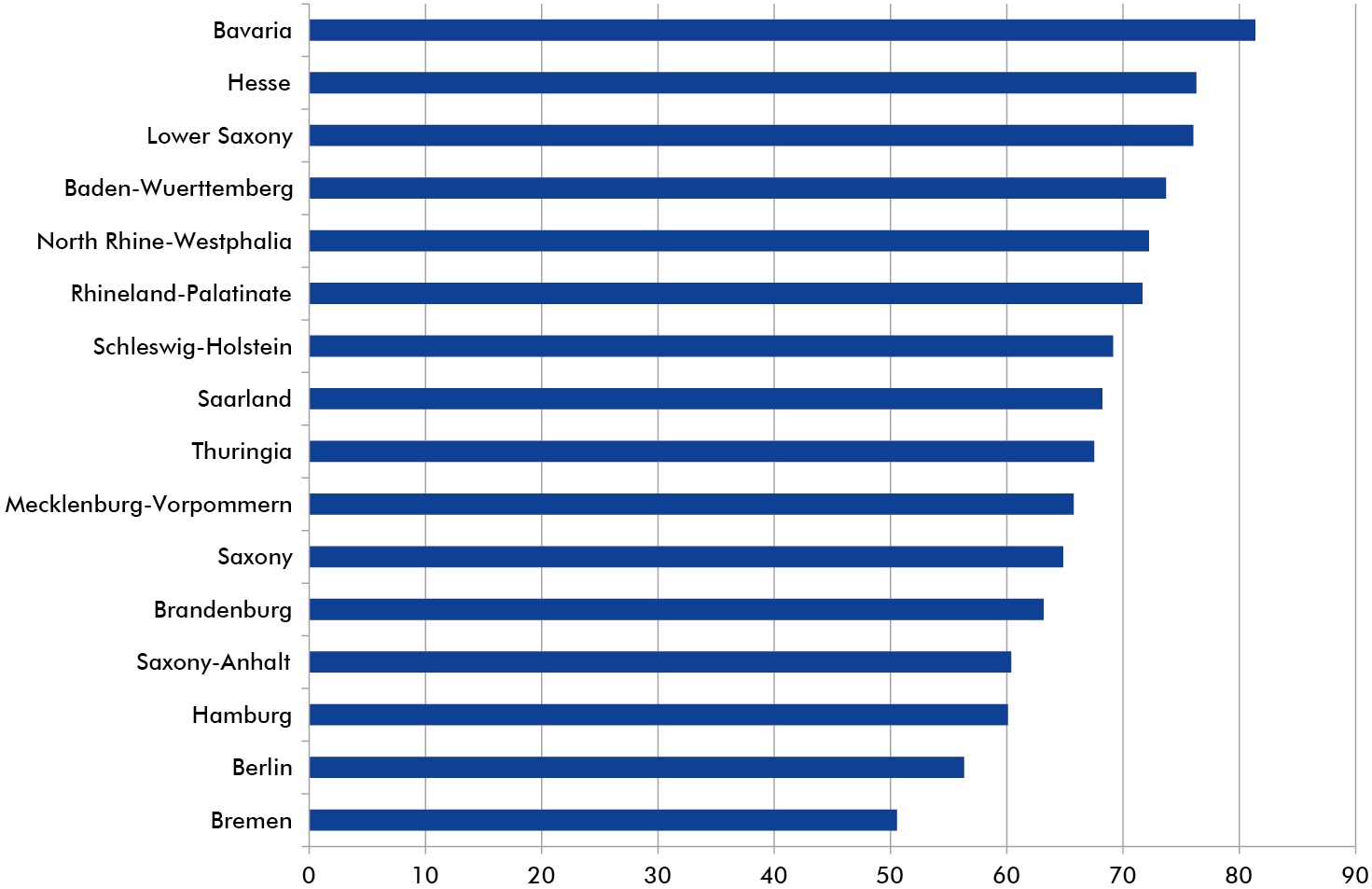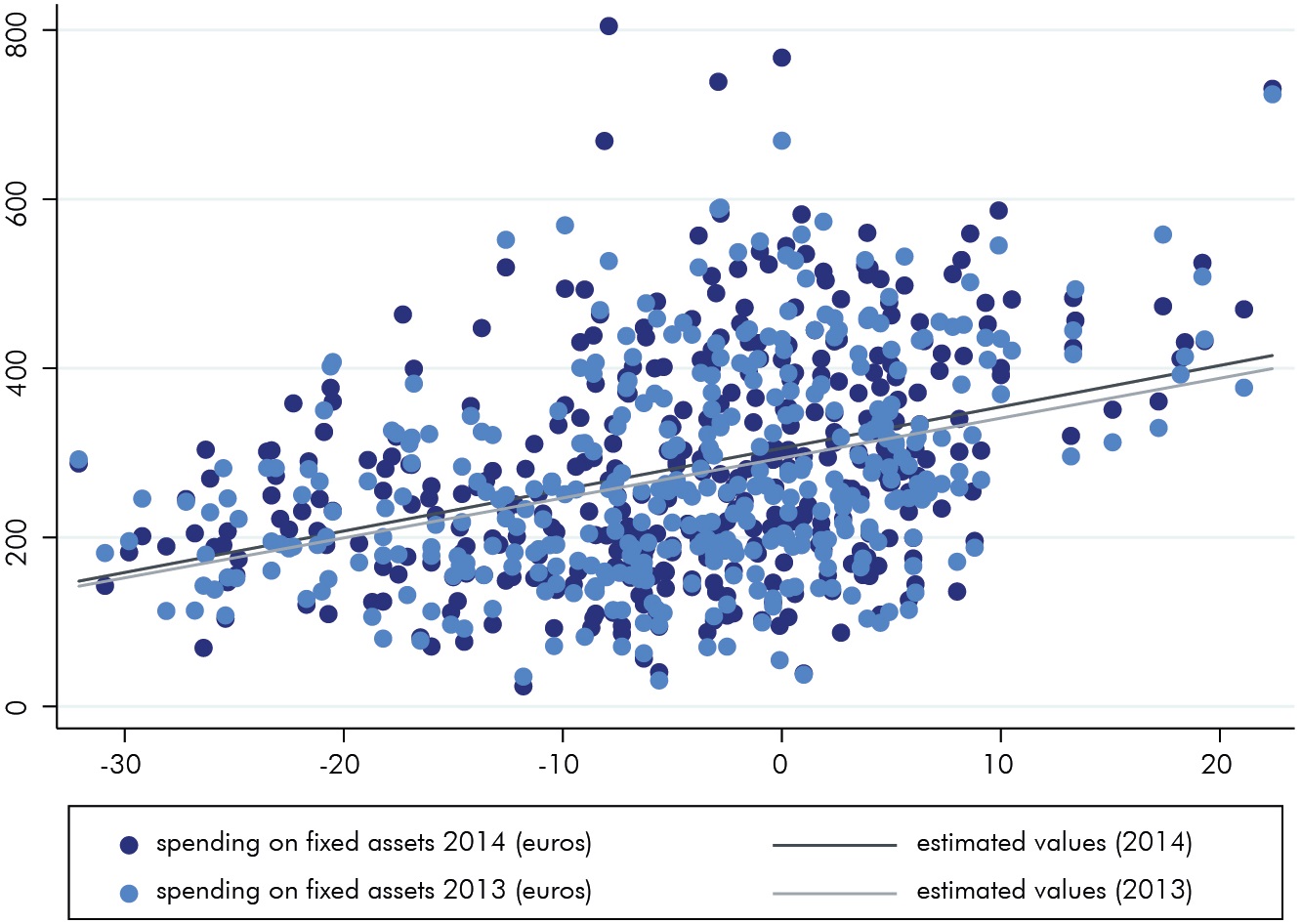 Publications on "East Germany"
Ostdeutsche Wirtschaft im Jahr 2012: Im Sog der allgemeinen Abkühlung der Konjunktur
in: Wirtschaft im Wandel, No. 8, 2012
Abstract
Nach dem Ende der Nachholphase der Produktionsausfälle in der globalen Wirtschafts- und Finanzkrise ist die ostdeutsche Wirtschaft in schwieriges Fahrwasser geraten. Ähnlich wie damals verliert in der Realwirtschaft infolge der erneut gestiegenen Unsicherheiten auf den Außenmärkten und der konjunkturellen Abschwächung in Deutschland zuerst die Industrie ihre Antriebskraft. Das Baugewerbe profitiert nur wenig von der Flucht in Immobilien. Wie lange diese Entwicklung anhält, hängt von der Entschärfung der Staatsschulden- und Vertrauenskrisen im Euroraum ab. Ein Teil der Eintrübung wird kompensiert durch die steigende Nachfrage der privaten Haushalte nach Konsumgütern und Wohnungen. Dämpfend wirken dabei allerdings die Ausrichtung der Produktion in Ostdeutschland auf Standardprodukte und auf Regionen in Westeuropa sowie der demographische Faktor. Der Aufschwung am Arbeitsmarkt läuft im Jahr 2012 aus. Der nachfragebedingte Produktionsrückgang wird nicht durch die gestiegene Wettbewerbsfähigkeit der Unternehmen auf der Kostenseite ausgeglichen. So besteht in der gewerblichen Wirtschaft insgesamt nur ein minimaler Wettbewerbsvorsprung der ost- gegenüber den westdeutschen Anbietern. Gemäß dieser Prognose wächst das Bruttoinlandsprodukt der ostdeutschen Flächenländer auch in diesem Jahr langsamer als in Westdeutschland. Der wirtschaftliche Aufholprozess stagniert pro Einwohner. Der Abstand in der Arbeitsproduktivität verringert sich leicht.
read publication