Firm Dynamics and Employment Outcomes
In a market economy, firm foundations and closures are important drivers of resource (re)allocation, structural change, and economic development which is particularly important with respect to the economic transformation of East Germany from a state-directed to a market economy. At the same time, job displacement coming along with structural change may have serious consequences for affected employees, such as unemployment, earnings losses, or lower job quality in a new job. This research group uses microeconometric methods to analyze foundation, evolution, and failure of firms, the amount and quality of jobs created by new firms and the consequences of firm closures for employees, in particular in terms of labor market outcomes such as employment and wages.
Research Cluster
Productivity and Institutions
Working Papers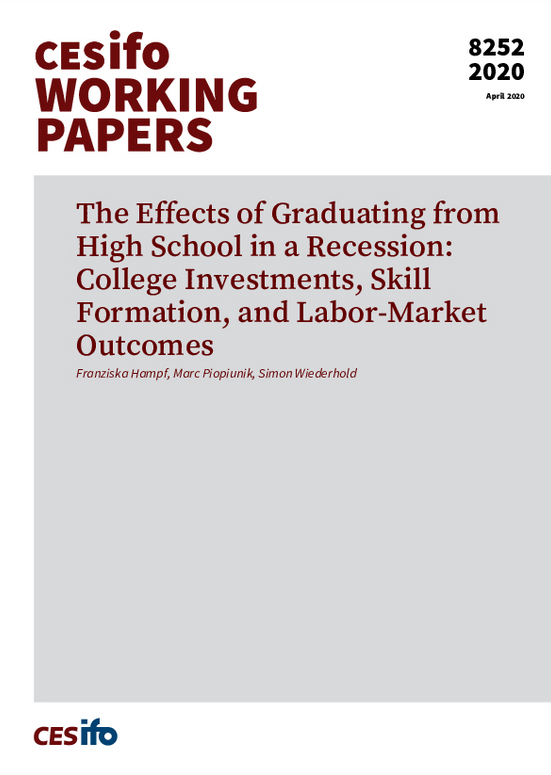 The Effects of Graduating from High School in a Recession: College Investments, Skill Formation, and Labor-Market Outcomes
in: CESifo Working Paper, No. 8252, 2020
Abstract
We investigate the short- and long-term effects of economic conditions at high-school graduation as a source of exogenous variation in the labor-market opportunities of potential college entrants. Exploiting business cycle fluctuations across birth cohorts for 28 developed countries, we find that bad economic conditions at high-school graduation increase college enrollment and graduation. They also affect outcomes in later life, increasing cognitive skills and improving labor-market success. Outcomes are affected only by the economic conditions at high-school graduation, but not by those during earlier or later years. Recessions at high-school graduation narrow the gender gaps in numeracy skills and labor-market success.
read publication
---
Identifying Bankruptcies in German Social Security Data
in: FDZ-Methodenreport, No. 10, 2017
Abstract
Many empirical studies about firm exits point out that it is important to distinguish between different types of closures, e.g., voluntary and involuntary liquidations. This report describes how exits due to bankruptcies can be identified in the German Establishment History Panel (BHP). In contrast to other closures, bankruptcies can be unambiguously regarded as indica-tion for economic failure and can therefore be interpreted as involuntary exits.
read publication